Man injured after fall from Thurso cliffs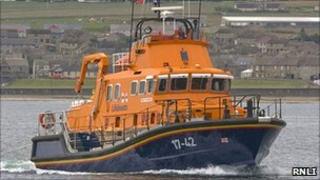 A man has been injured after falling from cliffs near Victoria Walk in Thurso.
Police, coastguard, Thurso lifeboat and a rescue helicopter from RAF Lossiemouth were alerted at about 1910 BST on Monday.
The man was winched from the base of the cliffs to the helicopter and flown to hospital. His condition is not known.
He is the latest in a number of people to have fallen from the cliffs.
In 2006, a 42-year-old man was flown to hospital after falling 21m (70ft) onto the rocky foreshore.
The following year, a woman was unsuccessful in a bid to have Highland Council held accountable for her accident.
Jacqueline Fegan was paralysed from below her waist after falling at Victoria Walk in 2000.
She accused the council of not fencing off the area.
A sheriff at Wick cleared the local authority of blame and Ms Fegan appealed to the Court of Session against the decision.
However, her appeal was refused.