Canna residents consulted over unused Gaelic centre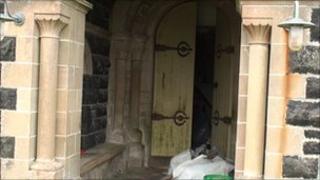 Islanders are being consulted on the future use of a church which was turned into a Gaelic study centre at a cost of £860,000 but has not been used since.
St Edwards Chapel on Canna was built in the 1890s as a place of worship for Catholic fishermen and their families.
However, it was vacated following the end of the herring fishing boom and later converted into a study centre.
The National Trust for Scotland (NTS) said it was consulting the 19 islanders on using it as a community facility.
Last month, Alasdair Ross McKerlich, the contractor who led the renovation work, said the chapel had fallen into a serious state of repair.
NTS said following its opening in 2001 as a study centre the building was found not to be wind and water tight.
However, it added that parts of the building could be made available for use by islanders.