Carbuncle Award goes to John O'Groats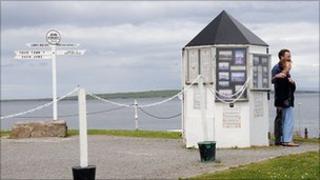 John O'Groats has been given this year's Carbuncle Award for the most dismal place in Scotland.
Denny, East Kilbride, Inverness and Lochgelly were also nominated for the Plook on the Plinth trophy handed out by architecture magazine Urban Realm.
Its editorial team said John O'Groats was "notorious for being so desolate" and described it as a "bleak outpost".
Inverness was short-listed because of its "sprawl" of retail parks, business parks and housing developments.
Carbuncles judge Drew Mackie said: "Having cycled 800 miles from Land's End to get here I would wonder why I bothered.
"This is the most anti-climactic tourist attraction that I know - and the UK is not lacking in these.
"An air of dereliction hangs over the place. Not surprising as the main hotel building is derelict and the most striking feature is a large car park.
"Various tourist haunts hang around this and give the impression of not wanting to look at each other like early arrivals at a party. The whole effect is augmented by a series of sheds and caravans, lurking with tourist intent."
Another Carbuncles representative, Mark Chalmers, added: "John O' Groats is a point of departure: It's a place for leaving Scotland behind, and John O' Groats has been left behind by Scotland.
"There is no sense of arrival here, nor anything to attract anyone other than the abstract notion of the edge of Scotland."
Visitor centre
In February, two tourism businesses unveiled proposals to build luxury self-catering lodges and a visitor centre at John O'Groats.
Heritage Great Britain and Natural Retreats also plan to refurbish and extend the site's existing hotel.
Highlands and Islands Enterprise (HIE), said there was potential for a "brilliant development" at John O'Groats.
In a statement, HIE added: "John O'Groats is a spectacular location and deserves facilities which will reflect its natural beauty and potential.
"This is why the community, private investors, and the public agencies are all working to drive forward a vision they created together for the village."
The public agency has been involved in efforts to revitalise the area and draw in more visitors.
Last month, a £250,000 steel sculpture designed to boost the image of Cumbernauld, a previous recipient of the Carbuncle Award, was erected.
The 10m (33ft) structure of a female form overlooks the A80.