University of the Highlands and Islands bid assessed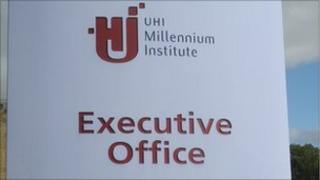 An application seeking university status for a higher education institution is due to be considered by Scottish ministers in December.
The prospective University of the Highlands and Islands (UHI) bid is being assessed by the Quality Assurance Agency for Higher Education (QAA).
The QAA will make its recommendations to the Scottish government.
A formal public consultation exercise seeking views on the bid has also started and will run until 22 November.
UHI said it expected the recommendations to be looked at by ministers at the end of the year.
Principal James Fraser encouraged residents of the Highlands and Islands to send the Scottish government their comments on establishing the new university.
He said: "We hope many individuals and organisations will take up our appeal to get involved in the consultation as they will help to inform the decision-makers on a crucially-important issue for the people, economy and cultural heritage of our region."
UHI had hoped to achieve university status in 2007.
However, the QAA said more time was needed for the institute to become the University of the Highlands and Islands.
The agency said UHI programmes were of a high quality, but it has asked for a stronger university structure.
UHI has learning centres in the Highlands, Argyll, Western and Northern isles.