Isles' North Ford Causeway reaches 50th anniversary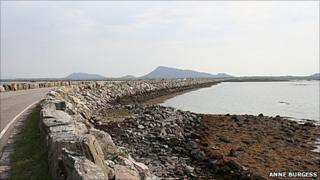 The construction of the longest causeway on the Western Isles is being recalled on the 50th anniversary of its opening by the Queen Mother.
Stretching to five miles (8km), the North Ford Causeway links Benbecula and North Uist and ended dangerous treks between the isles by foot at low tide.
It took up to 90 workers - many from north east Scotland in the early stages - three years to complete.
The causeway carries a single track road with passing places.
The project took 350,000 tonnes of rock and three bridges were built along its length.
Before the road, the crossing had to be made by boat or walking across mud and sand banks at low tide.
Guides were available to escort travellers, but the walk was about four miles (6km) long and the sea only remained low enough to make the crossing for an hour at a time.
Winter storms would shift the position of sand banks, forcing the guides to find a new route that avoided areas of quicksand.
Duncan Campbell, from North Uist, who worked on the causeway, said the way of life on the islands changed when it opened.
He said making the crossing before 1960 was such a task that he had been to Japan on National Service before he had ever set foot in Balivanich on Benbecula.
'Much easier'
Starting as a labourer working alongside a joiner, Mr Campbell eventually progressed to driving lorries loaded with quarried stone.
He said: "In the beginning the key workers were all from the mainland, from Aberdeenshire and the north east.
"But gradually the locals learned to use the different machines and by the time the causeway was finished a lot of the jobs using the plant were held by locals."
Mr Campbell rode a motorcycle across it to see the Queen Mother's flight arrive at the airport on Benbecula.
He said a huge crowd gathered later to hear her speech delivered from a small platform at Gramisdale in Benbecula.
On the changes that followed the causeway's opening, Mr Campbell said: "It opened up a lot of jobs and opportunities that weren't there before and it was much, much easier to get to the airport."
He added: "I tell people I had been to Yokohama before I had ever been to Balivanich. That was the sort of world we lived in."