Crew battle winds to rescue Orkney yacht off Durness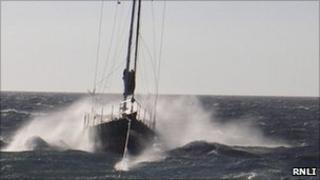 A lifeboat crew battled winds of force 5 to 7 to reach a yacht that had suffered engine failure three miles off Faraid Head, Durness.
Those aboard Happy Daze, which is registered in Eday, Orkney, were unable to use the sails because of the strength of the wind on Sunday.
Thurso lifeboat took two hours to reach the yacht.
The RNLI crew towed the Happy Daze to the safety of Scrabster harbour after a further six hours.