Death crash drink-driver Paul Munro jailed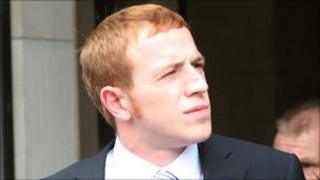 A mechanic who admitted causing the death of a young father-to-be by driving dangerously while under the influence of alcohol has been jailed.
Danny McBean, 16, from Inverness, was a passenger in a car driven by Paul Munro, 21, of Bunchrew, which crashed near the city last September.
Appearing at the High Court in Glasgow, Munro was sentenced to three years and four months in prison.
Mr McBean's 14-year-old girlfriend was three months pregnant when he died.
Courtnay Johnston, of Inverness, appeared in an episode of BBC Three's Underage and Pregnant series last Tuesday.
The teenager gave birth to a girl and named her Amelia Danny.
Sentencing Munro, judge Lord Brodie also banned him from driving for seven years.
Munro had earlier pled guilty to causing the death of Mr McBean on 18 September last year by driving dangerously on the A862 Inverness to Beauly road near Lentran while under the influence of alcohol.
He admitted driving at excessive speed and losing control of the car which left the roadway and collided with a wall and telegraph pole.
Lord Brodie said by pleading guilty Munro had accepted responsibility for his actions.
He said: "Your dangerous driving has therefore had the result of taking away one life.
"It also has caused inestimable damage to the lives of others.
"That is clear from the terms of the victim impact statement with which I was provided. No sentence that I can impose can undo that damage."
The court heard that Mr McBean was not wearing a seatbelt.
Two other passengers in the Vauxhall Vectra were treated for injuries.
The court had heard earlier that Munro had drunk half a bottle of wine and two bottles of beer. He had not intend to drive after drinking, but offered a friend a lift after they missed their bus home.
After the crash, Munro told police he had reached speeds of 70mph.
He also told officers that he was wearing a seatbelt and always asked his passengers to do the same because his father died in a crash, the court heard.
Defence counsel Barry Smith said Munro had no recollection of the immediate aftermath of the collision.
Following the crash, video clips of Mr McBean performing stunts on his bicycle were posted on YouTube as a tribute.
Friends posted messages to the youngster on the video sharing website along with footage jumping over fences and from a bus shelter on his bike.
His girlfriend, Courtnay, held a fundraising event to generate sponsorship for building a stunt park for other young cyclists.