Extra funds sought for winter damaged roads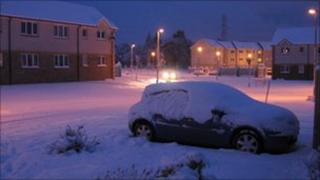 Repairing Highlands roads damaged by severe winter weather requires more money, council officers have said.
They have sought councillors' approval for £1.1m to be withdrawn from a £9m fund set up to cover the costs of unexpected situations.
The Scottish government has already provided £552,000 to the authority to tackle frost damage.
The Highlands was one of the areas of Scotland worst affected by bad weather between December and February.
In a paper to a full meeting of Highland Council, officers said the cost of repairs exceeded the amount allocated in the road maintenance budget.
They warned: "If this pressure is not met, the result will be the accelerated deterioration of road surfaces and an eventual higher cost of repair in the long term."
Last week, scientists said that a severe snowfall in North America and Northern Europe in the winter of 2009-10 was caused by a rare, once-in-a-century, collision of two weather systems.
They concluded the harsh winter with heavy snow was an example of hard to predict weather events, not a change in climate.
The research, which analysed historical snow records, was published in Geophysical Research Letters.
In the winter of 2009-10 much of Northern Europe experienced heavy snow and temperatures were at the lowest they had been for nearly 30 years.