Highland cattle aiding butterfly recovery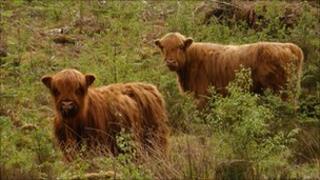 Changing when cattle graze in parts of Scotland's first butterfly reserve is believed to have aided the recovery of certain species.
Chequered skipper and dark green fritillary have increased in numbers at the Allt Mhuic reserve in Lochaber.
Fifteen Highland cattle have been used by Forestry Commission Scotland to help protect habitats.
But when butterfly numbers were still falling, grazing of the sites were changed from summer to winter.
Forestry Commission Scotland has been working with Butterfly Conservation on the project.
The commission's Kenneth Knott said: "The decision was taken to change the grazing regime on the lower slopes from summer to winter grazing and early indications suggest that the change is benefiting butterfly numbers.
"As the season has progressed at least five species on the site have shown improvements in numbers, which is excellent news and we are looking forward to getting the end of season figures to compare to previous years."