Dave MacLeod reveals Great Climb fears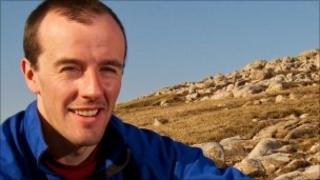 Climber Dave MacLeod has revealed he considered pulling out of the televised Great Climb on Sron Ulladale on Harris because of a painful ankle injury.
Mr MacLeod and fellow climber Tim Emmett completed one of the hardest rock climbs in the UK on Saturday.
But an injury sustained when a piece of broken rock fell on him during a practice session had troubled him.
On his blog, Mr MacLeod said at one stage it was so painful he could not put weight on it.
He wrote: "I didn't really tell anyone, but the whole of last week passed in a preoccupied state of worry that I wouldn't be able to climb on the day.
"I guess the responsible thing to do would have been to say 'I'm injured, so I'm out'."
However, he drew inspiration from the story of two climbers who made a first ascent of a route on the overhanging cliff in 1988.
After completing the new route at the weekend, Mr MacLeod named it The Usual Suspects in reference to the limping Kevin Spacey in the Holywood film.