Lorry driver in bowel cancer test kit call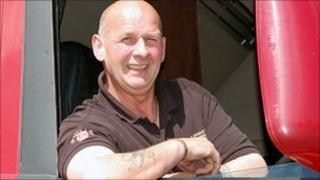 A lorry driver has urged other people to take the chance of screening themselves for bowel cancer.
David Crombie, 53, from Alness, was treated for early stage bowel cancer after using a test kit sent to his home.
He had thought of putting off testing, but went ahead with it after reading that the kit improved chances of surviving cancer.
Men and women aged 50 to 74 can take a test every two years.
Kits are sent to peoples' homes, together with an instruction leaflet.
Once completed, they can be returned for analysis in the pre-paid envelope provided.
Mr Crombie's test kit arrived shortly after his birthday in January.
He said: "About two weeks before the kit arrived I'd read a story in a newspaper and it said that the kit helped to diagnose the disease early and this gave people a much better chance of survival.
"I'm a typical man and might have put it off if it wasn't for that story but it sounded like common sense to me so I just did it."
Mr Crombie was treated in surgery.
NHS Highland's bowel screening coordinator, Dr Rob Henderson, said he was grateful to Mr Crombie for telling his story.
He added: "It demonstrates just how important is it that people take part in bowel screening."