Life sciences employ 1,800 people in north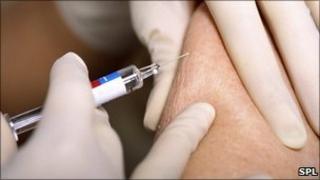 Medicine development and medical technology employs about 1,800 people and is worth £130m to the Highlands and Islands, according to an agency.
The figures for life sciences have been revealed by Highlands and Islands Enterprise (HIE) ahead of it hosting a national conference on healthcare.
Doctors, researchers and business leaders are expected to attend the P4 Digital Healthcare Convention.
It will be held at Inverness's Eden Court on 1 October.
Dr Steven Dodsworth, head of life sciences with HIE, said developing medical technology was important to the region because of the challenges delivering care to people living in remote areas and islands.
He added: "Health professionals, technologists and business people all see telehealthcare, as it's called, as a growth area for the coming years and we believe the Highlands and Islands is ideally placed to reap both the health benefits and economic growth.
"Life sciences is a growing sector across the world which is already worth over £130m and supports around 1,800 jobs in the Highlands and Islands alone.
"We see telehealthcare as an important niche in that sector which can develop significantly over the coming years."