Plants sown at Caithness farms to attract bumblebees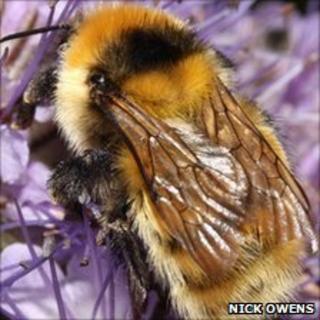 Plants favoured by the rare great yellow bumblebee have been sown at 11 farms in Caithness in an effort to boost its numbers.
Money from Highland Council's Landfill Communities Fund was used to help set up the project.
The great yellow clings to survival on the far north coast, Orkney and the Western Isles.
In this first year of the scheme, the species along with other bees have been found at eight of the 11 sites.
Stirling-based Bumblebee Conservation Trust, Caithness Local Biodiversity Group and Scottish Agricultural College are involved.
Volunteers have been visiting the farms to count bumblebees.
Bob Dawson, conservation officer with the bumblebee trust, said the mix of wild flowers sown were irresistible to bees.
He said: "This project really shows how farmers can help the great yellow bumblebee on their land, and the volunteers are providing crucial information on bee numbers."
The Highland Council's Landfill Communities Fund was formerly called the Landfill Tax Credit Scheme, which was set up to help communities living close to the dumps.
It offers money towards the cost of creating, restoring and expanding natural habitats.