Salmond in legacy hope for Highlands housing fair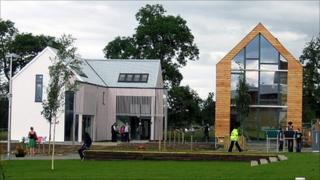 First Minister Alex Salmond said it was important to maximise the legacy of Scotland's first housing fair which attracted more than 30,600 visitors.
The event outside Inverness is a permanent housing development of 27 different projects showcasing innovative, sustainable homes.
Its aim was to encourage better design, including improved energy use to help cut households' carbon footprints.
The event received £2m of backing from the Scottish government.
The Expo is similar to housing fairs commonly held in Nordic countries, particularly Finland.
Mr Salmond said: "Beyond the success of the Expo event itself, which has supported more than 300 jobs locally and already attracted more than 30,000 visitors, we will work with partners to fully evaluate the project and help maximise its legacy."
The project was delayed for a year because of the economic downturn and parts of the site at Balvonie Braes still remain unfinished.
Work was stopped on three plots so they could be opened to the public while another plot was vacant following a decision to delay the arrival of materials from Austria until after the Expo.
But the chair of the board of Scotland's Housing Expo, Councillor Jean Urquhart, said the event had achieved its ambition "of making people think about the future of house building and home-making in Scotland".
For the whole of August, the housing fair was open to the public and its last day is Tuesday.