Climbers complete live TV ascent on Harris cliff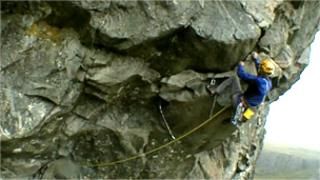 Two men have completed one of the most difficult rock climbs in the UK live on television.
Dave MacLeod and Tim Emmett spent six hours scaling the overhanging 600-foot cliff face of Sron Ulladale, on the Isle of Harris in the outer Hebrides.
The pair braved poor weather to reach the top at about 1900 BST on Saturday.
The feat was broadcast live on BBC Two and streamed online. Mr MacLeod had an injured ankle and Mr Emmett had recently recovered from a broken leg.
On Monday, Mr MacLeod was left with a cut and swollen ankle after a breeze block-sized piece of rock fell on him during a practice session.
On his blog, he said he was "cut down to the bone" but hoped a few stitches to the wound would not affect the bid.
After completing the new route, Mr MacLeod named it The Usual Suspects in reference to the limping Kevin Spacey in the Holywood film.
He said: "I'm so chuffed, I can't believe it, every pitch could have gone wrong so easily but it just worked out, it just worked out. It's fantastic."
Triple Echo - which produces BBC Scotland's Adventure Show - claimed it was a world first in terms of the technology used during the outside broadcast.
Mr MacLeod is a professional climber and Mr Emmett an extreme sports athlete and a motivational speaker.