Dave MacLeod injured ahead of televised Great Climb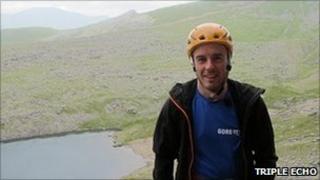 A climber has been injured ahead of his attempt to ascend a new route on an overhanging cliff live on television.
Lochaber-based Dave MacLeod and fellow climber Tim Emmett are to tackle Sron Ulladale on Harris on Saturday.
But Mr MacLeod has been nursing a cut and swollen ankle after a breeze block-sized piece of rock fell on him during a practice session on Monday.
On his blog, he said he was "cut down to the bone" but hoped a few stitches to the wound would not affect the bid.
The Great Climb will be filmed live in high definition (HD) and broadcast on BBC Two Scotland and on the BBC HD Channel. It will also be streamed live on the internet.
Triple Echo - which produces BBC Scotland's Adventure Show - claimed it would be a world first in terms of the technology used during the outside broadcast.
Mr MacLeod is a professional climber and Mr Emmett an extreme sports athlete and a motivational speaker.