Skye mink cull survey set for launch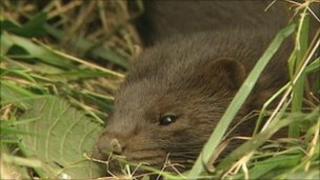 The first stage of a plan to cull mink on the Isle of Skye will be launched on Monday.
Volunteers will gather in Broadford to learn how to track mink activity as part of a survey.
The group behind the plan wants to assess 50 sites on the island.
Skye & Lochalsh Environment Forum aims to collect sufficient evidence to justify a mink eradication programme throughout Skye and Lochalsh similar to one running in the Western Isles.
The forum received funding for the survey from the European Community Highland Leader Programme, Scottish Natural Heritage and Highland Council.
There have already been confirmed sightings of American mink along the shores of Loch Alsh, Loch Duich and outer Loch Carron.
It is thought mink first crossed to Skye from the Kylerhea narrows.
They prey on water voles and have been blamed for almost wiping out ground-nesting birds on Sandaig and the Sound of Sleat on Skye.
The Hebridean Mink Project currently being conducted by Scottish Natural Heritage in the Western Isles has been running since 2001 and is in its last year. So far more than 1,200 mink have been killed.
American mink were first brought over to Scotland in 1938 for fur farming.
Feral mink are now known to be present in all Scottish mainland areas except Sutherland and Caithness, and have been seen on Arran, Skye and the Outer Hebrides.