Scotland's Housing Expo schedule 'was hampered'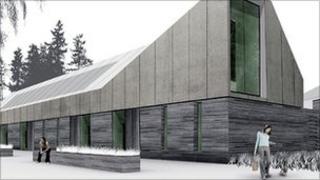 The credit crunch and severe winter weather "hampered" the schedule for an exhibition of eco-friendly homes in the Highlands, its project manager said.
Scotland's Housing Expo opens on Sunday but some properties, on the site near Milton of Leys on the outskirts of Inverness, have still to be completed.
Fiona Hampton said contractors had made a "great effort" to meet deadlines.
But she said factors such as one of the worst winters on record had affected the project.
Visitors will be able to see properties on all the plots but for safety reasons they will not be able to go inside those still to be finished.
The expo - which is backed with Scottish government and Highland Council funding - was due to be held last year.
However, it was postponed until this August because of the credit crunch.
Ms Hampton said the winter brought further set backs.
She said: "The schedule has been extremely hampered by the difficult winter we had.
"The builders, as you can imagine, have had to battle through one of the harshest winters in this area for a very long time."
The project manager added: "Contractors have been working towards this August deadline and have been making great efforts to do that."
Ms Hampton said the Highlands should be proud to be staging a "unique and innovative" event.
She said it was the first of its kind in the UK and visitors would be amazed at the housing designs showcased.
Residents of nearby Milton of Leys have been offered a free-of-charge visit to the site on Thursday.
Meanwhile, RSPB Scotland are to use the event to encourage people to make their gardens wildllife-friendly.