End to Enders reach their destinations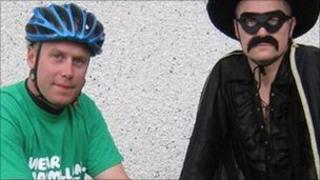 Three separate attempts to cycle the length of Britain have been completed successfully.
Andrew Robertson and Alan Falconer, of Inverness, reached John O'Groats from Land's End on Friday after 11 days.
Julian Heitz-Jackson, who is blind, rode tandem with Nicola Bennett. They also took 11 days to get to Land's End, arriving on Wednesday.
Ten friends from Surrey cycled in fancy dress north to south and completed the route in 10 days.
Those taking part in Ali's Big Ride reached Land's End on Sunday.
Dressed as superheroes, they were led by Jeff Burnett whose six-year-old son Alastair died from Juvenile Myelomonocytic Leukaemia last year.
All three attempts raised money for charities.
Mr Falconer, who was also accompanied by Douglas Bogie, from Dumfries, completed part of his trip dressed as Zorro to attract sponsorship.