Killer admits murder of former girlfriend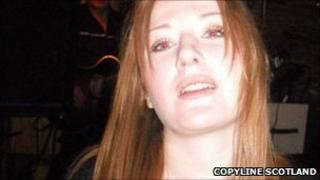 A man who was jailed for killing his ex-wife has admitted murdering his former girlfriend while out on licence.
Philip Fraser, 50, stabbed Donna Forrest with a knife and struck her with a claw hammer during the attack in Balintore, near Tain, in April.
Fraser, of Balintore, had killed his ex-wife Katherine Scafe in 1997.
At the High Court in Edinburgh, he was given another life sentence and ordered to serve at least 20 years in prison for the murder of Ms Forrest, 30.
Judge Lord Menzies told Fraser that he faced never being released from prison.
The judge said: "You murdered her in an act of appalling violence and barbarity.
"The terrible thing which you did to Donna Forrest is made all the worse by your dreadful criminal record."
He added: "After she ended that relationship you pestered her, upset her and made a nuisance of yourself, and then you murdered her.
"You are a very dangerous man."
Fraser was jailed for life at Liverpool Crown Court for murdering mother-of-three Ms Scafe, formerly of Tain.
He was freed on licence in February 2008 and moved to Balintore, where he lived close to mother-of-one Ms Forrest.
Fraser kept their relationship a secret from his supervising officer, but Ms Forrest broke it off and later began seeing another man.
The court heard that she told friends he was pestering her. She had been in contact with police and also met a support worker from Women's Aid.
The night before her murder, Ms Forrest and Fraser had been drinking separately at a local pub.
Advocate depute John Scullion, prosecuting, said just after midnight Fraser armed himself with a hammer to broke into her home.
He headed for her bedroom and found Ms Forrest and a man in bed.
The man was told to leave, which he did, and Fraser and Ms Forrest went down to the kitchen.
Mr Scullion said: "Neighbours heard the sound of screaming coming from within the house and contacted the police.
"The screaming continued for a short period before stopping suddenly."
When police arrived they found Ms Forrest's body lying in a pool of blood.
Mr Scullion said Fraser had also dialled 999 and reported the murder.
Defence QC Brian McConnachie told the court Fraser had accepted that he may never be able to leave prison.
The lawyer said: "Mr Fraser knows there is nothing I can say and nothing he can say that can make this any less horrific than it is.
"Any suggestion that he regrets what happened - while undoubtedly true - is not going to be of any comfort to the family of Donna Forrest."
Northern Constabulary said the murder led to the setting up of a major inquiry team.
Acting Det Insp Steve MacDonald said: "This was a brutal and horrendous crime and our thoughts are clearly with Donna Forrest's family at this time.
"Serious crime like this is very rare in such a small community and indeed across the Highlands and Islands.
"We would like to thank the family for their support during this difficult time and the public for their co-operation and understanding during the inquiry."