Guide creates virtual world on Second Life after stroke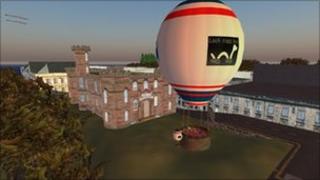 A tour guide recovering from a stroke has created a computer-generated version of the Highlands in virtual world Second Life.
Tony Hamsworth began work on the project during his year-long recuperation.
Second Life users design an avatar, a computer-generated representation of themselves, to live in the online world.
There are believed to be as many as 16 million users from all over the world.
The virtual Highlands stretches from Inverness down Loch Ness to Fort Augustus and Loch Oich.
Several local businesses, including bed and breakfasts, are advertising on Virtual Scottish Highlands.
Computer programmers helping Mr Hamsworth, from Inverness, include a pet shop owner in Germany.
Gaelic-speakers from Canada have also stepped in to run an exhibition in the language after a local Gael, who started it, dropped out.
Drawing on 35 years experience in tourism, Mr Hamsworth has spent three years on the Highlands project.
He came across Second Life during a year off to recover from a stroke.
Mr Hamsworth said: "I was stuck in the house for almost a year and was spending a lot more time on my computer.
"I discovered Second Life and I wondered if there was any potential there for Inverness.
"I wouldn't have considered Second Life if I hadn't taken ill."
In the virtual Highlands, people can wander along the shores of Loch Ness and visit the ruins of Urquhart Castle.
Burned down
Avatars can also step inside recreations of Invergarry Castle.
The real-life stronghold was burned down by Oliver Cromwell's forces in 1654. It was rebuilt, but ransacked by government soldiers after the Battle of Culloden.
The MyGlengarry.com Conservation Trust has "built" two versions of the castle, near Fort Augustus, on Second Life.
Virtual tours have been made available of the building in its ruinous state today and how it was in 1740.
Mr Hamsworth hopes to expand his virtual world to include Fort William, Beauly, Culloden, Nairn and Skye.
Visitors so far have come from the US, Canada, Australia, New Zealand and Japan.
Mr Hamsworth said: "It is all very experimental and we don't know what the long-term benefits might be to tourist businesses, but we do know that a market larger than Denmark, Belgium and Ireland combined is too large to ignore.
"Already some visitors who have sampled our cyber Highlands have found their way to the real Highlands and that must be good for the region."