Batgirl filming wasted a month of our business
By India Grant & Mary McCool
The Nine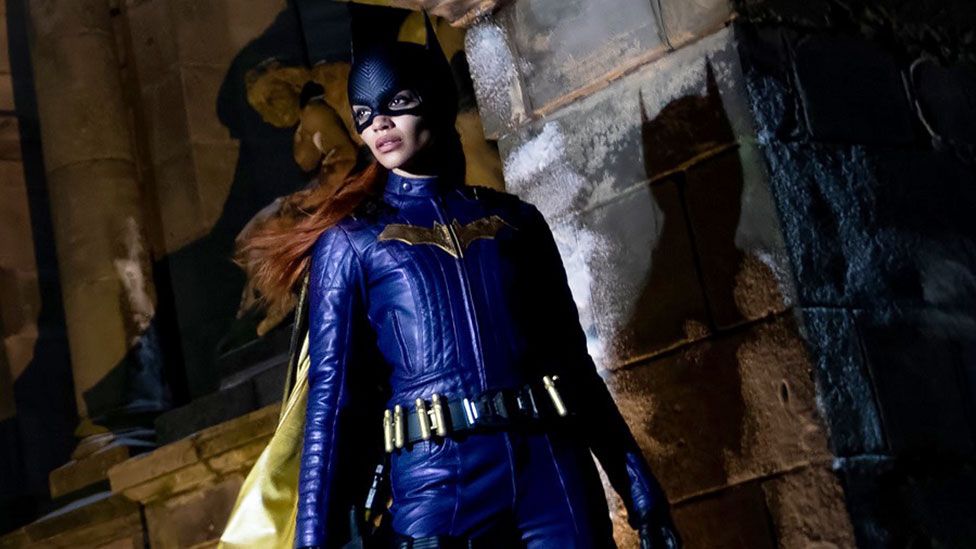 It was the only movie to have been filmed entirely in Glasgow - a cinematic first that audiences will no longer get to see now the plug has been pulled on Batgirl.
But small business owners in Glasgow told the BBC they were more concerned about the disruption they faced between December and March to accommodate the shoot.
'We couldn't get online orders picked up'
Robert Chambers is a designer at the Social Recluse clothing shop on King Street in the Trongate area of the city.
As well as being affected by street closures, the shop had to shut for 10 days in January while Batgirl filming was under way - for which Robert was compensated £1,000.
"Usually we have a busy January but that month we couldn't even get our online orders picked up by Royal Mail because the street was closed," he said.
"[Business] was way down. People were getting frustrated because they weren't getting their t-shirts.
"The £1,000 compensation we got over the 30 days worked out at £30 a day - that doesn't even turn the lights on in here. It was just a wasted month really."
In January the Glasgow Film Office, set up by the council in 1997 to attract film and television to the city, declared 2021 a record year due to films like The Flash and the new Indiana Jones movie.
It said TV productions like Annika, Shetland and Screw had also contributed a record £42.2m to the local economy.
Meanwhile, Batgirl was offered £150,000 by Glasgow City Council as an incentive to film in the area - although the sum has not been paid.
While Mr Chambers said he welcomed the influx of tourism, he felt business owners should have been consulted in greater detail before any decisions were made - particularly since the movie's cancellation, he said, was a "slap in the face" to the council, businesses and residents.
"I love the fact that Glasgow was a backdrop for Hollywood movies," he said. "But that can't be to the detriment of small businesses and residents in the local area who have got lives to lead.
"I just felt at the time the council and the film department came in and stood on top of everybody and it didn't matter what we said."
Glasgow City Council said compensation was a matter for the production company and the private businesses to arrange.
It added that major productions usually have liaison staff - typically a location manager or part of that team - who act as a bridge between productions and any residents or businesses who may be affected by shoots.
'Our clients didn't know if we were open'
By the end of 2021, scene dressers for Batgirl had transformed the Trongate into the DC Comics universe - but had kept the signage from one waxing salon.
Kerri-Ann Angus, who manages the Peaches salon and brow bar, said her team had enjoyed the fun of having film crews on the street.
They had also planned a staff trip to the cinema to see if they could spot their branding amid the streets of Gotham.
"It's a bit disappointing," said Ms Angus. "It was a bit of an upheaval from a business point of view - we gave them a bit of our shop and our clients didn't know if we were open.
"We had to move our brow bar into the rooms which is not ideal for our girls and there was a bit more admin as well. We had to move clients on days we were closed.
"The Batgirl movie was the second film we had to close for - so we were more reluctant this time round to close."
'We got to keep the sign'
Sales adviser Christopher Anderson is among those disappointed that Batgirl will not make it to the big screen.
But he said his colleagues at Merchant City Cameras had an overall positive experience with the shoot.
He said business was good at the time and staff enjoyed speaking to film crews about what it was like working in the movie industry.
They even got to keep a piece of the film set - and have hung it over their counter.
"They said they might return one day to do reshoots or a sequel but obviously that's not going to happen now," he said.