Nobel laureate: Captain Kirk calls me for science lessons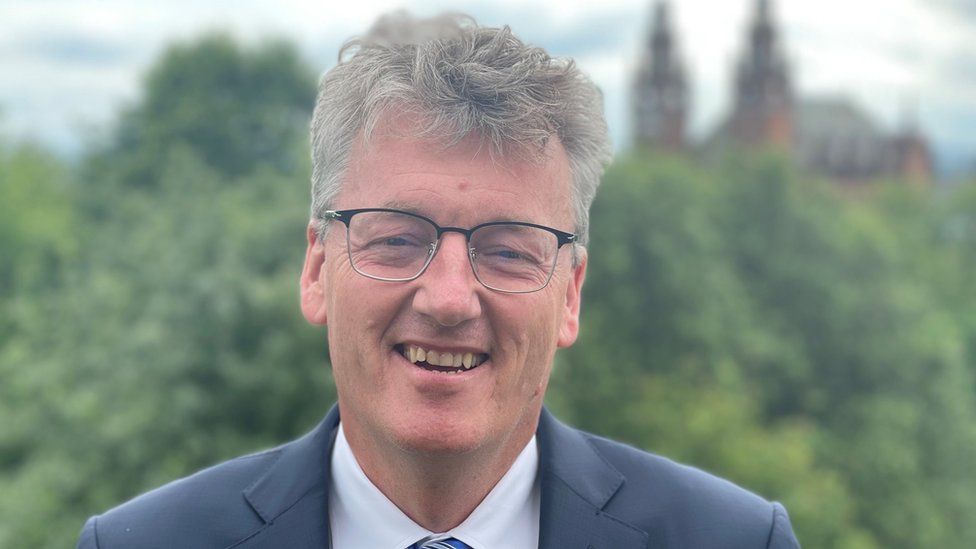 In the eight months since he was awarded the Nobel prize for chemistry, life has taken some unexpected turns for Prof Sir David MacMillan.
A Princeton chemist still faithful to his North Lanarkshire roots, he found "the crazy moments" of his celebrity status kicked in almost overnight.
They have included William Shatner, who played Captain James T Kirk in Star Trek, calling up to ask what a photon is, and football legend Sir Alex Ferguson inviting him for dinner.
In an interview for the BBC's Reporting Scotland programme, Sir David told the BBC his new-found fame and the decision to give his award money away had led to "really special" times.
He grew up in New Stevenston, near Bellshill, and graduated in chemistry at the University of Glasgow before moving to the US for postgraduate studies and to build his academic career in the States.
In October 2021, Sir David was jointly awarded the Nobel Prize for chemistry - and a half share of the 10 million krona (£842,611) prize - with German scientist Benjamin List for building molecules that are mirror images of one another.
He suddenly began to be recognised in the streets of New York. But one of his favourite encounters came with a call, out of the blue, from actor William Shatner, the oldest man to have travelled into space.
"William Shatner called me up and said could he interview me," Sir David said. "We had a great time chatting so he said 'can I contact you now and again?'"
Since then they have spoken on Zoom about once a month.
"He thinks that I know things, which is true, but when you win this [Nobel prize] people suddenly assume you know things.
"Recently he called me up and said 'David, what is a photon?' and I thought to myself this is crazy, Captain Kirk wants to know what a photon is. So I explained it to him and that was really nice."
He added: "There are lots of these crazy moments that would never have happened before but then overnight suddenly it kicks in."
Sir David's day job involves "working on new ways to understand biology, which has an impact on understanding disease, which leads to medicines".
Interest flooded in from people who wanted to discuss supporting disadvantaged students and donate money to his fund.
He also had an unexpected response from one of Glasgow's football's greats.
"Sir Alex Ferguson asked me to come down to his house and I had dinner with him and we drank too much and sang lots of Scottish songs until the wee hours," said Sir David.
He was in South Korea to attend the presidential inauguration when he first heard he would be receiving a jubilee honour.
"I got this phone call from the British Embassy at four o'clock in the morning, in Korea, to say Her Majesty Queen Elizabeth would like to give you a knighthood, would you like it?" he recalled.
"I couldn't answer, I was too busy crying. Eventually I blubbered out that I would accept it.
"It's something I could never have imagined in my whole life."
He said his parents would have "absolutely loved" seeing their son being knighted.
"My dad would have been bouncing off the walls," he laughed.
His Nobel prize money is going into the May and Billy MacMillan Charitable Fund - a foundation named in their memory to support disadvantaged students.
"As soon as we found out about the money myself and my wife decided instantly we were definitely giving it to a good cause," he told BBC Scotland. "We didn't have the money so we're not going to miss it.
"I was really lucky coming from Bellshill and getting the chance to go to uni, and you think of all the fantastic people all over Scotland who sometimes don't think about going to uni or get the chance.
"There's so much talent that is potentially there that could come to the fore."
The money will be held in a fund and pay out in perpetuity, with annual grants for students in Scotland.
He hopes it will promote efforts to let disadvantaged youngsters continue their education. Discussions have already begun with First Minister Nicola Sturgeon and his work has inspired similar discussions in the US.
"For myself and family it's been really special that we're able to put this fund together and name it after [my parents]," Sir David said.
"What was really amazing was the BBC picking up the story and it went worldwide so now there's people contacting us from all over the world.
"All these Scottish people who now live in the States and other countries are contacting us and they are now donating to this fund. So [the fund] is growing as well because of the publicity."
It has reached £560,000 and is expected to be £1m by the end of the year.
An 'unbelievable foundation'
Last week the University of Glasgow awarded him an honorary doctorate, more than 30 years after he first graduated.
He has fond memories of his education in Scotland, starting at New Stevenston Primary and then at Bellshill Academy, where the "passionate" teachers gave an "unbelievable foundation" to their working class pupils.
"They cared so much about making sure that not just one or two but the whole class was learning," Sir David said.
"That's what I view as unbelievably important for me growing up in Scotland."
He has been inspired by the ambition of young people in Scotland and said he saw that as a "big change from when I was growing up".
As an undergraduate student he was a "crammer" for exams who "enjoyed university life" and had not expected to ever gain one of science's most coveted prizes.
Instead of keeping it in a safe, he now takes his gold medal with him on visits to let youngsters hold it.
"I am convinced that someone who holds this is going to win one," he added.