Artist Tracey Emin returns from cancer with raw Edinburgh show
By Pauline McLean
BBC Scotland arts correspondent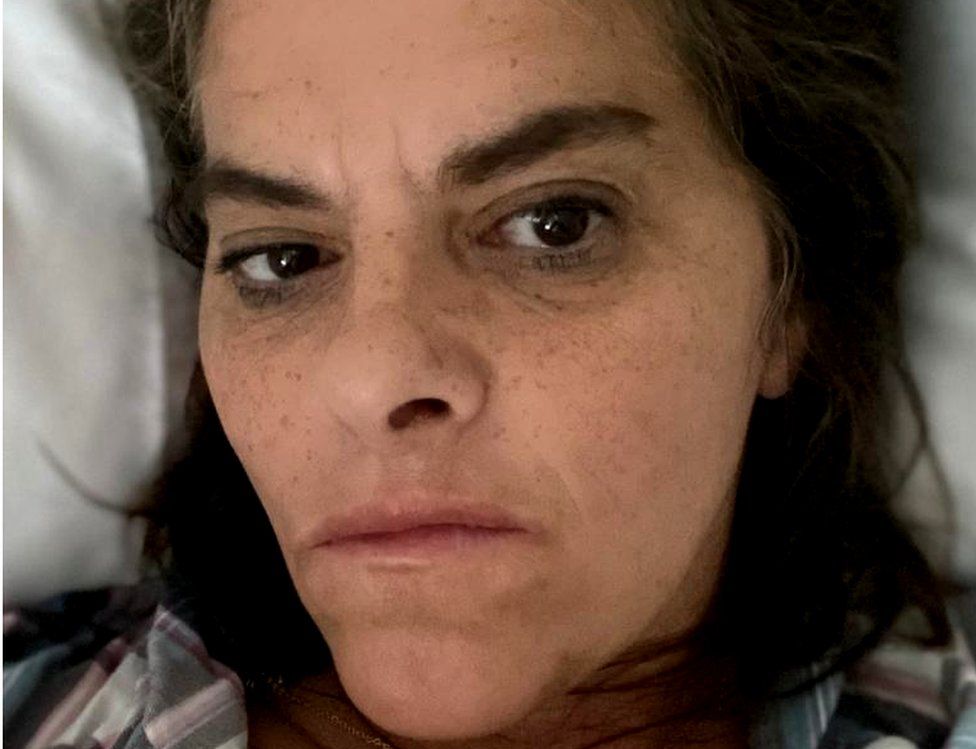 The last time I met Tracey Emin, she was declaring her passion for Titian.
It was 2008 and a major exhibition of her own work had just opened at the Scottish National Gallery of Modern Art, but having read about the campaign to keep two paintings by Titian in the UK, she was keen to have her say.
"A pound from everyone would save this painting forever," she said. "They shouldn't be taken for granted. They should be honoured, respected and kept."
And they were, she recalls with a smile, when we meet again at Jupiter Artland, the sculpture garden located on the outskirts of Edinburgh.
Emin had been due to open an exhibition there in 2020, along with a permanent sculpture, both entitled I Lay Here For You.
The pandemic, and then a diagnosis of bladder cancer derailed the project entirely.
But now, she is back with her completed project.
She said: "Everything came to a stop for me for at least a year. Some of the work I had started, others are completely new but it all makes sense with the title - I Lay Here For You. It's about surrendering yourself to love, to illness, to death, to life."
Tracey Emin first came to fame four decades ago, as one of the Young British Artists whose work was often shocking, intimate and confessional. Beds were a frequent theme - from the tent she displayed in 1997, appliqued with the names of all the people she ever shared a bed with - to the unmade bed she exhibited in 1999 when she was nominated for the Turner prize.
The beds in this exhibition are places of recovery, and retreat, and she believes they'll resonate with many people, after the pandemic.
"I think people now are so much happier with the smaller things in life, so they can have a more gentle experience. I think this show is about that. Those tiny bed paintings. It's about rest, it's about peace, it's about life continuing. A lot of people will be able to relate to this."
Emin has always been brutally honest in her art - whether that's incest, rape or abortion - and she doesn't shy away from expressing her recent experience of cancer. Her nudes are her most frank to date, about the extreme surgery she underwent, which saved her life but changed her body forever.
I wonder if there's ever a point where she can't share her emotions, since it's too overwhelming.
"Definitely, sometimes, if I'm going through something big and emotional it's too much but it still comes later. I write a lot but that's different. It's much more explicit. With the painting, it's more of a release, I can't hide my feelings, even the paint is emotional."
Illness and the pandemic have mellowed Emin. She's also given up alcohol and credits that with her new found calm.
"I'm so much happier. So much quieter and passive. If you say I'm really happy to be here, you tend to make the most of every moment. I'm very happy with the smaller things in life now."
Her new permanent sculpture for Jupiter Art Land is anything but small. Six metres long, and three tonnes of bronze, it reclines uphill in a spot chosen by Emin herself.
"It's a perfect spot. You can hear the cows mooing, and the farm gives it a human connection. When you have three tonnes of bronze, there's not much which will take that way. We're talking a giant tsunami, the biggest flood in the universe. Otherwise, that thing will stay here for a thousand years.
"As an artist, especially after what I've been through, you have to think about legacy, about the future. I know these bronzes will be here a long time after me and that's really what I want because that's what I dedicated my life to."
Honoured, respected and kept. Just like the works of the artists who came before her.