Hepatitis: Mum's fear for girl, 4, in mystery virus outbreak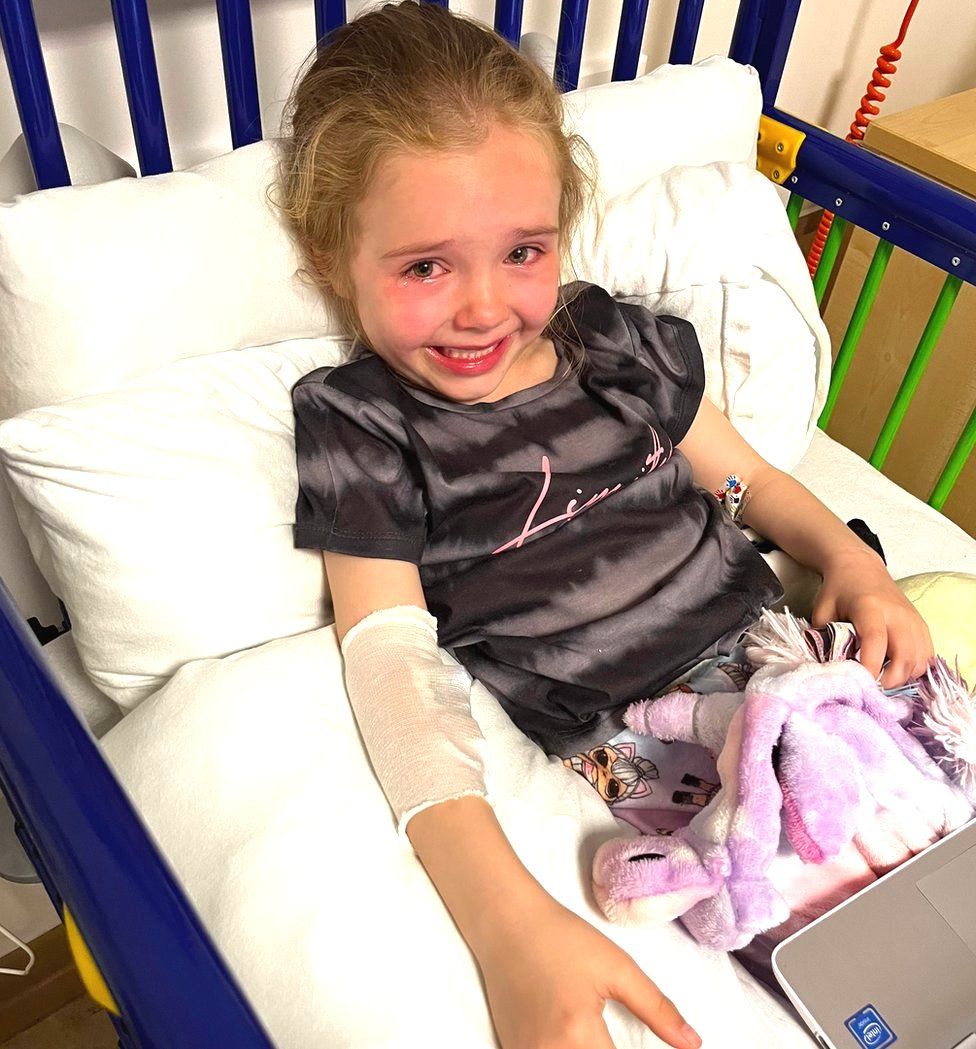 A Scottish mum feared her four-year-old daughter could need a liver transplant after catching hepatitis.
Madison Duffy is one of almost 200 children in the UK currently being treated for the illness, amid a surge of cases around the world.
It has led to a number of children needing transplants but experts are not certain what has caused the outbreak.
"They don't know why it's is happening and where it's coming from. It's frightening," mum Chloe Benham said.
Hepatitis is a catch-all term to describe inflammation of the liver tissue.
"That is not normal so we took her to the doctor who did a urine test and then ordered blood tests," she said.
"Her liver enzymes were measuring over 1,000 when it should only be in the 50s, so we got sent to hospital for more blood tests."
At that point Madison, from Wishaw, Lanarkshire, was found to have hepatitis.
She developed classic symptoms - jaundice, or yellowing of the skin and eyes - while in hospital.
"It was scary because I didn't know what it was," said Chloe, "When I Googled it there were a lot of horror stories like kids needing liver transplants.
"Medics have had to do screening and other tests to make sure there is nothing else causing it. They don't know why this outbreak is happening and where it is coming from. It is frightening."
Madison is now recovering well and is due to attend the Royal Hospital for Children in Glasgow for follow-up treatment.
Her mum believes she will be in hospital for several weeks and will also need to undergo blood tests and screening for the rest of her life.
She has no idea how she contracted the illness.
What has caused the outbreak?
The most common symptoms of hepatitis are jaundice and vomiting.
Other signs of the virus are dark urine, pale grey coloured stools, itchy skin, muscle and joint pains, tiredness, feeling sick, a high temperature, loss of appetite and stomach pain.
Last month, the UK Health Security Agency (UKHSA) announced the launch of an investigation into a hepatitis outbreak in children under 10.
On 20 May, Public Health Scotland (PHS) confirmed 26 cases of hepatitis had been reported, taking the total number of UK cases to 197.
There is no evidence of any link to the Covid-19 vaccine. The majority of cases are in children aged under five years old, and are too young to have received the jab.
The latest UKHSA technical briefing suggested it could be linked to adenovirus.
Adenoviruses are commonly passed from person to person and by touching contaminated surfaces, as well as through the respiratory system.
Dr Jim McMenamin, the head of health protection (infection services) at PHS said the current risk to children of severe hepatitis remained low.
"Our investigations increasingly suggest that there is a link to adenovirus infection," he said.
"Common infections, like adenovirus, can be prevented with good hand and respiratory hygiene, therefore, I would encourage parents and care-givers to supervise young children while they are washing their hands to ensure they do so properly.
"Public Health Scotland continues to work with NHS and public health colleagues across the UK to investigate other potential causes and we will issue further updates as the situation develops."
Chloe wants other parents to watch out for the symptoms.
She said: "If they have any symptoms, take them to the doctor and even mention the hepatitis outbreak so they know to test for it.
"It's vomiting, dark urine and jaundice. Madison didn't start taking jaundice until she was in the hospital, so we basically caught it at the start.
"It was so worrying but I am fine now I know she is on the mend."