Food price rises could increase allotment waiting times
By Ashleigh Keenan-Bryce
BBC Scotland News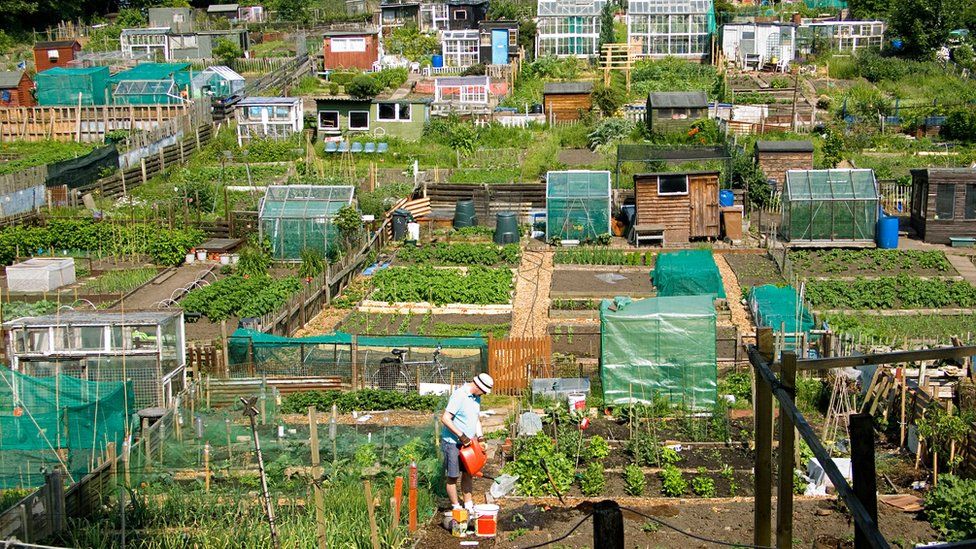 Rising food prices could put even more pressure on waiting lists for Scottish allotments, according to a gardening charity.
The Scottish Allotments and Gardens Society said many people were already facing waits of 10 years or longer for a plot.
Vice chairman Richard Crawford believes the rising cost of food will further increase interest in allotments.
Mr Crawford told BBC Scotland that the numbers applying for an allotment had surged during the pandemic.
"The Covid-19 outbreak saw many people applying for allotments - the issues around physical and mental health becoming paramount - and allotments combined benefits for both," he said.
"Now, there is a a food price challenge, and people are going to be thinking more about growing their own."
BBC Scotland asked all 32 local authorities in Scotland how many people were currently waiting for an allotment.
Of the 16 that responded, Edinburgh had the largest waiting list with 2,637 people waiting for a plot. Glasgow had 1,829 people on its waiting list and there were 1,787 people waiting in Fife.
Three local authorities reported longest wait times of more than 10 years and one person in Dumfries and Galloway has been waiting for a plot at a popular allotment since 2000.
The backlog of applicants reflects an interest in growing food sustainably, locally and affordably, according to the Scottish Allotments and Gardens Society.
Mr Crawford said he hoped the inquiry would encourage councils to take the matter seriously.
"We are now facing the next massive challenge - the cost of living," he said.
"Even today, I harvested a cauliflower grown in my polytunnel and reflected on the fact that it cost me a few pence, plus my own personal time.
"So many people don't have the opportunity, or sadly the inclination, to do this. What better to grow your own at minimal cost yet massive health benefits? And the food tastes so good."
Mr Crawford said growing food close to home also had the added benefit of reducing the carbon footprint and using less plastic.
He added: "With what has happened in Ukraine, causing issues globally with the provision and price of food, perhaps, just perhaps, there will be more encouragement for people to be a little more self-sufficient."
The upcoming Holyrood inquiry will examine section nine of the Community Empowerment Act, surrounding the provision of allotment places. The public consultation phase of the inquiry ended on 24 May.
Committee convener Ariane Burgess said the pandemic and cost-of-living crisis had brought the benefits of an allotment "into sharp relief".
"The Community Empowerment Act sowed the seeds for the provision of allotments throughout Scotland. But we already know that in some areas, this has failed to take root and flourish," Ms Burgess said.
"The benefits of allotments have been well documented, not just in terms of health and well-being, but also around intergenerational engagement, waste reduction and biodiversity.
"We will be looking at the availability of land and how it is allocated by local authorities, but we also want to hear about what else could be done to make sure that allotments and their users can thrive."
The Community Empowerment Act states that no waiting list should be higher than 50% of the total number owned and leased by the local authority and that no-one should be on the list for more than five years.
It is likely that at least 10,000 people in Scotland are currently waiting for an allotment to become available.
'No evidence' of more land
Gardener Chelsea Lowe applied for at spot at the Victoria Park allotment in Glasgow in November 2016.
She told the BBC: "I joined the list at number 97. I check in once a year to see where I am on the list and as of last August I was at number 40," she said.
Despite allotment waiting lists growing significantly, Ms Lowe said she had seen no increase in the amount of land allocated to allotments.
"In the years I have been waiting for an allotment I have heard promises of additional growing space being created but have not seen any evidence of it," she said.
"Some people I have spoken to say existing full-size plots are halved to make 'more' growing spaces, but there is not actually more land given to growing."
Glasgow City Council said waiting lists were site specific, with waiting times in some allotments as short as a fortnight.