Rangers fans head to Seville for Europa League final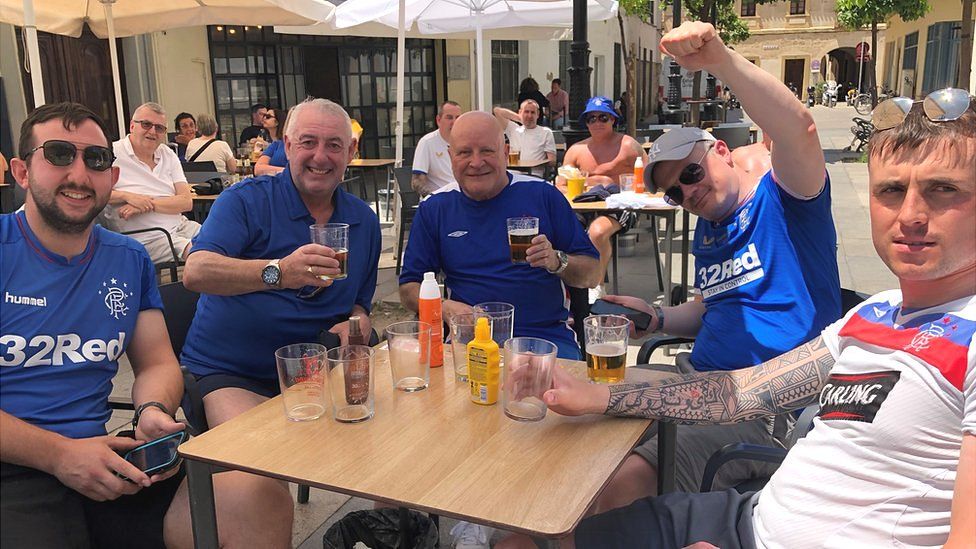 Thousands of Rangers fans are on their way to Seville as the Ibrox side prepares to face Eintracht Frankfurt in the Europa League final on Wednesday.
It is the first time the club has been in a major European final for 14 years.
At least two charter flights took off from Glasgow to Faro in Portugal, 200km west of Seville, on Monday with others heading via different routes to Spain.
Some estimates suggest up to 100,000 supporters may make the trip, despite rising accommodation and travel costs.
With only 9,500 tickets available to Rangers fans for the match at the 42,700-capacity Estadio Ramon Sanchez Pizjuan, those travelling without tickets will be able to watch the final at a neighbouring stadium in the city - the 57,000-capacity Estadio La Cartuja.
One fan, Derek MacDougall, told BBC Scotland he had travelled from Sydney, Australia, via Dubai to Glasgow before flying to Lisbon on Monday.
He plans to drive to Seville on Tuesday, but does not have a match ticket.
"It doesn't matter - I have got to be there," he said. "As soon as the semi-final was over, I was on the phone. It is a big trip, and a big commitment - and expense as well, let me tell you."
Kaj and Lorraine McInally are making the trip to Seville - via London and Malaga - as a 20th wedding anniversary present, and have booked a camper van for four nights.
Kaj said: "Our anniversary was a few months ago but I said, 'hang fire on a present' just in case Rangers make the final.
"I can't wait. It's going to be a great occasion, win or lose."
Darren Lee has followed Rangers for 35 years and is heading to Seville - via London Heathrow and Gatwick - with his 22-year-old son Alistair.
They also travelled to Lyon, Dortmund and Belgrade during Rangers' remarkable run to the final.
"It's been a magnificent journey," Darren said. "This is the first time we are going to see some sun too. I can't wait.
"We have got lots of pals coming from everywhere. It is brilliant. I am like a child at Christmas Eve.
"It's the biggest moment of our lives, without a doubt. I just told my wife it is even better than our wedding day if we win this.
"She sort of laughed, but I need to bring her a good present back."
Another fan, Robert from Stirling, had returned from a wedding in Greece just three hours before checking in for a flight to London and then on to Malaga.
"My wife is not happy but she doesn't have a choice," he said. "I'll be in Malaga for five days and I don't have a flight back but we'll worry about that next week - once we lift the trophy."
Meanwhile, hospitality businesses in Seville are preparing for a bumper few days.
Alberto Blanca, who runs a 600-room hotel in the city, admitted there were some concerns about security given the vast numbers of fans anticipated, but expressed confidence that Seville was well prepared.
"This is a great event for us. We are all fully booked," he told BBC Scotland. "The city is going to be at 100%."
Mr Blanca said the city was used to handling big events, but there was a "mixture of happiness and worry".
He said: "There is a difference with the all the supporters coming from different countries.
"We know the areas where they are going to be having fun are already well prepared so they don't have to go to other places which maybe could be difficult to control.
"But Seville is absolutely ready to host this kind of event. We even wanted to have the Champions League final which went to Paris. We are ready for it."