Seville fan zone to show Rangers final for ticketless supporters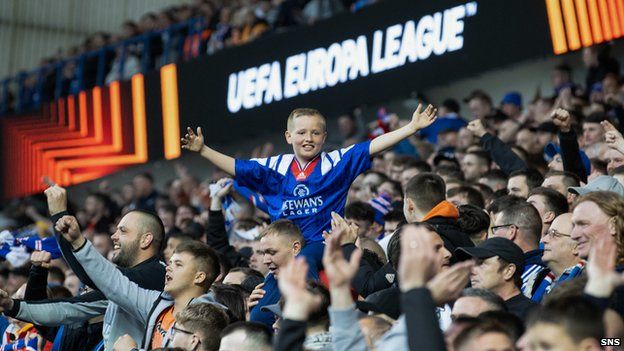 Ticketless Rangers fans in Seville will now be able to watch the Europa League final against Frankfurt at a neighbouring stadium in the city, local Spanish authorities have confirmed.
A beam-back of the game will be held at the 57,000 capacity Estadio La Cartuja.
"We have worked to ensure supporters with and without tickets have the opportunity to experience this momentous occasion," a Rangers statement said.
Rangers face Frankfurt on Wednesday.
However, for fans back in Scotland the game will not be shown at Rangers' Ibrox Stadium, despite pleas from supporters.
The Glasgow club say they do "not have sufficient staffing resources to be able to host such a large event" due to the number of employees travelling to Spain.
"Given the significant Uefa regulatory demands, we are required to deploy our full safety team in Seville, given the anticipated travelling support," the club said.
'Rangers biggest ever game'
There has been some concern from Rangers fans who are travelling out to Seville. With only 9,500 tickets available to Rangers fans for the final itself, there was real concern about whether there was going to be any fan zones in the city for those without tickets to watch the game, or whether bars were going to open.
It has now been confirmed they will open up a stadium in the north of the city, it's actually the stadium Celtic played in against Porto in the Uefa Cup final in 2003. That will be good news for the many thousands of Rangers fans who are travelling without a ticket.
Clearly, what the authorities in Seville have decided to do is get all of the fans without tickets and put them in one place.
One thing that has been confirmed is there won't be any beam-back for Rangers fans at Ibrox Stadium. The club say most of their staff will be in Seville so they can't actually operate a beam back. That will be disappointing for fans who can't travel.
We are expecting more details in the next couple of days, perhaps fan zones in Glasgow, but certainly what Rangers fans won't be able to do is watch what many say is Rangers' biggest ever game in the club's history at Ibrox.