The Muslim women learning to ride a bike in their 40s
By Harriet Bradshaw
BBC Scotland Climate Change reporter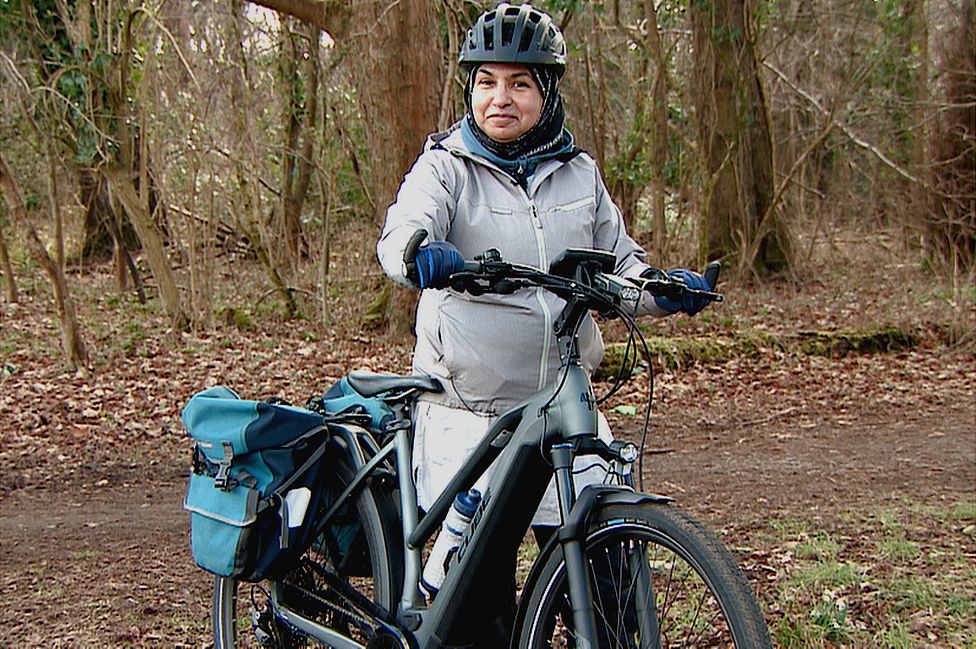 "It's as easy as riding a bike" goes the old saying. But what if you didn't learn to cycle as a child?
The humble bike is promoted as a greener form of transport in an age of climate change.
But for some, it come with barriers.
A group in Glasgow calling themselves the Hijabi riders is introducing cycling to Muslim women who may never have laid their palms on a set of handlebars.
Many of them learned to cycle only recently. Their activities include cycling outings and learning to carry out their own repairs.
They have also adapted their clothes to allow them to cycle safely while also being modest.
The cycling group started in 2016 with a handful women but has since grown to 20 members.
Mahnoor Sultan Campbell, one of the originals, said she learned to ride a bike when she was 40 years old, to be able to take her children out.
"I was brought up in Pakistan. So I didn't have a bike as a child," she said. "And my mum believed that girls shouldn't be riding bikes. So once I moved here and settled down, I never even thought about it.
"It wasn't something that crossed my mind."
But when her children wanted to go for bike rides, she made it her mission in her 40th year to learn. Wheel forward to now, and Mahnoor is known as the mechanic of the group.
Her fear of getting a puncture when she first started cycling pushed her to learn basic bicycle repairs.
As she quick-releases a wheel to change the inner tube she laughs, "I am not the damsel in distress.
"Now I say come on, I'll teach you how to change a puncture so that you do it yourself and you don't have to rely on somebody else."
Mahnoor isn't alone in learning late. Rehana Saleem also started in her 40s.
"I had no idea how to ride a bike before that," she said. "It was just the kids and not having access to a bike… I think I've definitely grown in confidence on the road where before, I would never cycle on the road in traffic at rush hour."
She said she loves the travel freedom cycling gives her the most.
Shgufta Anwar, another original member, explains that common barriers preventing women from cycling include safety, lack of confidence, health issues, the cost of buying a bike, as well as religious barriers.
She said: "I would probably say Muslim women, BAME (black, Asian, and minority ethnic) women, women of colour on top of that they've got religious barriers, they've got cultural barriers, they've got clothing barriers."
She pulls a large dress tunic from her bag. "This is called an abaya… it's quite long, it's quite floaty, and there's quite a lot of material that would catch in various bits of the bike and would probably kill you, because you could topple over quite easily."
But she has found solutions, including adapting clothes to not only be modest but safe too. She pulls out another item from her pannier, which she's modified herself. "So it doesn't go all the way to the floor. So it allows me to still cover up. But I can cycle."
She says being visible on the bike as a Muslim woman encourages other women in her community to know what's possible.
Whilst enjoying cycling together, the women are also passionate about protecting the planet.
Ms Anwar said: "In terms of what we're doing to the climate, with our cars, you know, polluting it, not worrying about future generations, destroying the earth. That goes completely against our faith.
"Working on your faith and taking action against climate change, in my opinion are kind of one and the same."
The women hope to continue breaking these barriers through a business they're setting up, Women on Wheels, which will offer lessons and guided routes with a pay-what-you-can model, so money doesn't become another obstacle.