TRNSMT festival confirmed to go ahead in September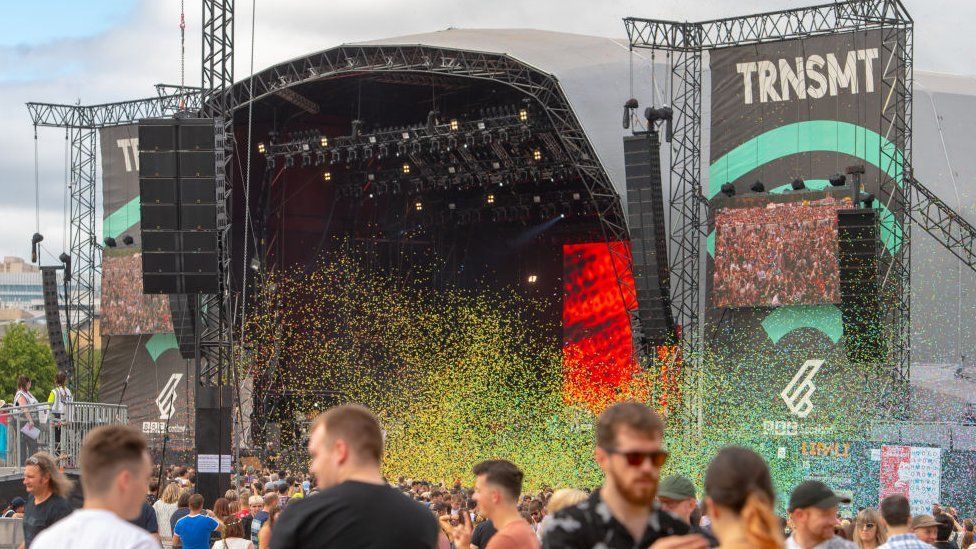 TRNSMT music festival has permission to go ahead at Glasgow Green in September, organiser Geoff Ellis has confirmed.
The DF Concerts CEO told BBC's Good Morning Scotland programme that he "can't wait" to welcome 50,000 people each day with no social distancing.
It comes after the first minister announced on Tuesday that most Covid restrictions would be lifted from 9 August.
The festival was moved from its traditional July slot to September.
It has not been held since 2019, with the 2020 event cancelled in April last year - a month after the first Covid lockdown was announced.
Up to 150,000 people will attend the event over three days, the same capacity the event has had in previous years.
Mr Ellis told the BBC: "I'm delighted to confirm we've got the permission to go ahead with TRNSMT which is amazing, it'll be so emotional. It'll be two years since the last TRNSMT so people will be raring to go.
"We're so excited, we can't wait to welcome 50,000 people at Glasgow Green non-socially distanced and with a great line-up."
Glasgow City Council said DF Concerts had permission to use Glasgow Green for this year's TRNSMT festival, subject to any of the Scottish government's Covid-related restrictions.
A spokesman said: "We will continue to work with the promoter and the Scottish government on the safety of the event, incorporating any Covid-control measures as required."
Original headliners Liam Gallagher and The Courteeners will appear as planned at the event which will be held from 10-12 September.
However, the switch of dates means Lewis Capaldi will no longer be able to fulfil his Sunday headline slot.
The Brit Award winner will return in 2022 but has been replaced this year by The Chemical Brothers.
'Vaccination bus' suggested
Mr Ellis said it was "logical" to assume that fans would be required to take a lateral flow test and provide evidence of a negative result before being allowed into the festival.
Following talks with the Scottish government, he said he did not believe vaccination would be a requirement to attend events - but had offered to host a vaccination bus inside TRNSMT.
He said: "I don't think the Scottish government will insist on vaccination for clubs because I don't think they believe in that.
"But I think they want to encourage as many people as possible to get vaccinated and I would say the same. I've even suggested to the Scottish government if they want to put a vaccination bus into TRNSMT we'd be happy to host that, it's on the table.
"But I don't think it'll become a condition of entry in Scotland. It's fraught with legal conditions."
A government spokeswoman confirmed the festival had been granted permission "due to its significant cultural and economic impact".
"We are engaging with TRNSMT and the wider festival and events sector on what baseline mitigations will be necessary and guidance will be published in the coming days," she added.