Covid in Scotland: Cruise ship not allowed to dock in Greenock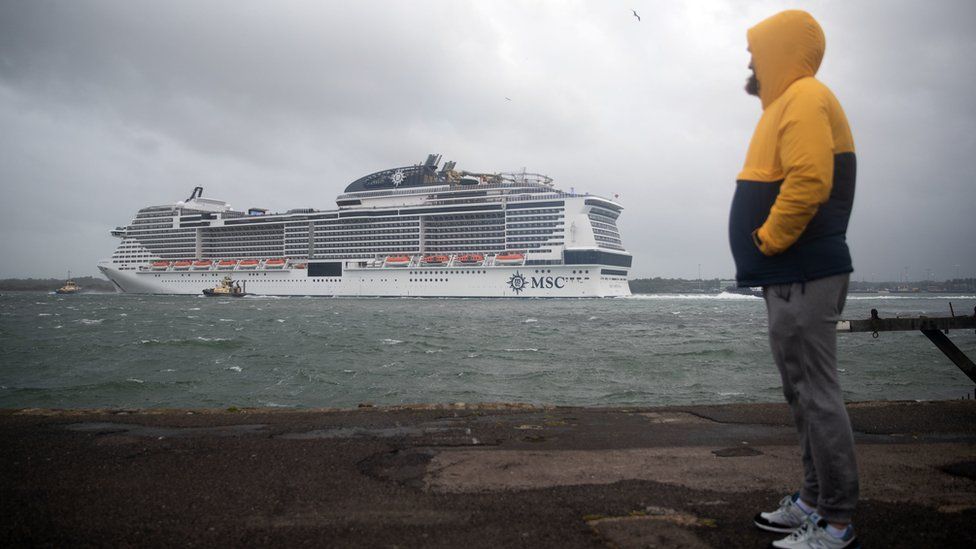 Passengers on a cruise ship touring the UK have been told they will not be allowed to disembark in Scotland.
The MSC Virtuosa's operator says Scottish government Covid rules block it from entering the port of Greenock.
The government has said domestic cruises can only restart when restrictions in all of Scotland reach level one.
It insisted the decision was based on the risks "between both cruises and the wider travel context".
The MSC Virtuosa left Liverpool earlier this week for a seven-night cruise, with planned stops in Greenock in Inverclyde, as well as Belfast, Southampton and the Isle of Portland.
It was then due to stop in Greenock again on the return journey.
It can carry more than 6,000 passengers but has just under 900 currently on board to allow for social-distancing measures.
The Scottish Passenger Agents Association (SPAA) confirmed that Wednesday's scheduled stop in Greenock had been cancelled. The ship was due to dock in Greenock at about 09:30, departing at 20:00 the same day.
The industry body said the situation meant Scots on board the vessel were effectively "barred from setting foot in their own country". Passengers will not be able to get on the ship at Greenock either.
The SPAA said it understood 75% of passengers on board were fully vaccinated, and had recently tested negative.
The organisation's president, Joanne Dooey, told the BBC's Good Morning Scotland programme she believed the decision was "ludicrous" when people can travel into Scotland by train or car unhindered.
She said: "We had the Northern Belle in last week to Edinburgh from Manchester which had lots of tourists on it with no testing at all.
"What's the difference between a cruise ship coming in and football taking place in Glasgow with no testing being put in place?
"And when are we ever going to have confidence in the vaccination progress? We are going to have to live with new variants coming in and we have to get on with our lives."
The SPAA has seen a copy of an email sent to current passengers by the cruise operator.
It says: "Due to the latest Scottish government Covid 19 restrictions and regulations... we are sorry to inform you that the port call of Greenock has been cancelled.
"No guests are allowed to embark or disembark... This decision has been made by the Scottish government and is out of our control."
Scottish passengers were due to join the cruise in Greenock and the SPAA anticipated that a third of those currently on board were expected to go ashore for excursions on Wednesday.
Michele Lister, who works for Glasgow-based Glen Travel, is one of those who boarded the ship in Liverpool.
She said: "We were expecting to go into Greenock tomorrow morning for the full day... and we're not allowed to go into my own country which is really disappointing.
"There's about half a dozen people that I'm aware of on board that are Scottish and they want to show off to the English customers what Scotland's all about and they want to spend the money in the area as well, which is badly needed."
Linda Hill, who owns LAH Travel in West Kilbride, described the decision as "another nail in the coffin for the travel industry".
She told BBC Scotland's Drivetime programme: "The cruise industry has obviously been very hard hit over the past 18 months.
"But we had seen a way to start, very safely, some UK cruises with lots of very safe protocols including limited numbers on board.
"This is a brand new cruise ship which was coming to Greenock tomorrow and there was great excitement to see such a fabulous cruise liner in our own waters.
"Sadly, the Scottish government has said passengers cannot embark or disembark at Greenock. The sailing is still going ahead - it's just missing out Scotland."
In a statement, the Scottish government said it fully understood "the impact of the current restrictions on domestic cruises".
It added: "We explained our concerns about the transmission risks posed by cruise vessels in an update to industry on the 24 May and confirmed that we would clarify the position in June.
"Following extensive engagement with stakeholders, we have now confirmed that domestic cruises can restart when all of Scotland reaches level one and we have made industry, including the operator, aware of this."
An MSC spokeswoman said: "In light of recent information received, we are now awaiting further clarification from the relevant authorities in Scotland about the situation for cruising which regrettably means that we have had to cancel our proposed visit to Greenock tomorrow.
"We hope that our calls to Scotland with our special cruises can commence soon considering how much we were looking forward to welcoming our Scottish guests onboard MSC Virtuosa and how we are aware of the important and widespread contribution that the cruise industry makes to Scotland."
Affected passengers have been advised to contact the operator for further information.