Covid in Scotland: Glasgow outbreak 'relatively contained'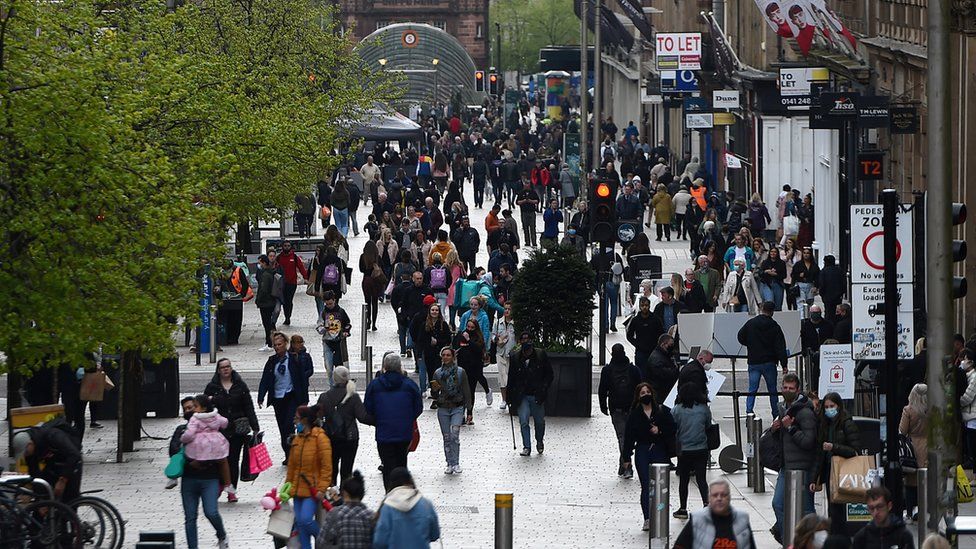 An outbreak of Covid cases in the south of Glasgow is "relatively contained", according to national clinical director Prof Jason Leitch.
He said he hoped the city would move down to level two restrictions as planned on Monday.
However, he said no decisions had yet been taken and that First Minister Nicola Sturgeon would provide updates about both Glasgow and Moray on Friday.
She said on Tuesday that Moray was likely to stay in level three.
This followed a surge in cases in the area, which currently has a case rate of 98.1 per 100,000 - well above a key threshold for easing restrictions.
The latest published rate for Glasgow is 70.9 per 100,000.
Mr Leitch said people should be concerned about the increasing numbers in the city.
But he added: "It is relatively contained, not yet exponential growth like we have seen with this virus before."
Prof Leitch said there had been a "precision public health response… throwing everything at it, testing, extra vaccination clinics, really asking the public to step up and help us as much they can."
Asked if the whole of Glasgow may have to stay in level three, he said: "I really hope not."
He said meetings had taken place on Thursday with local public health teams in both Glasgow and Moray, and that no decisions had been taken in either area.
The rest of mainland Scotland is scheduled to move to level two Covid restrictions on Monday, which will allow people to hug and visit other households indoors. Most islands will move to level one.
Clackmannanshire has also seen rising Covid rates recently, and is now just above the 50-case threshold at 52.4.
Cases also seem to be on the rise in Midlothian, which has 48.7 cases per 100,000.
The reasons behind the increase in cases in Glasgow are not yet known, although it is suspected the so-called Indian variant has played a role.
NHS Greater Glasgow Clyde and Glasgow City Council is writing to all households in the G41 and G42 areas, asking people to get tested regardless of whether they have symptoms.
Public health expert Prof Linda Bauld said door-to-door testing was needed, as has happened in areas of England - but people in those parts of Glasgow will be asked to go to test sites themselves.
The difference between Glasgow and Moray is that the clusters in Scotland's biggest city have been sourced to specific postcode areas and linked to household mixing.
In Moray it quickly became widespread community transmission hence the decision to remain in level three there.
The real test for public health teams in Glasgow will be the new Indian variant, which is believed to be the source of the outbreak in the southside. It's known to be at least as transmissible as the UK variant, and it has also led to outbreaks in some parts of England.
I don't get the sense that officials in Glasgow are panicking but they are concerned. Expect to see enhanced efforts to get people tested even if they don't have symptoms and encouragement from community leaders to stick to the rules.
The context in which this is happening is also very different now. The success of the vaccine means that, so far, this outbreak has not led to a jump in hospital admissions. But it is early days and younger people in particular, who are more likely to become infected, still need get their jag.
Dr Linda de Caestecker, director of public health at NHS Greater Glasgow and Clyde, said the south of the city appeared to be affected and there had been a "cluster of outbreaks" linked to household transmission.
She said: "The rise in cases in certain areas of Glasgow is a cause for concern, particularly at a time of such progress in the fight against the virus across NHS Greater Glasgow and Clyde.
"A rise in household mixing seems to be the principal reason for the increase."
She urged everyone to follow the current rules, not the ones which are likely to apply from Monday.
"In addition, we are seeing new variants that are more transmissible and that is another reason why we cannot be complacent at this critical time," she added.
On Wednesday, Prof Leitch said that between 20 and 30 cases of the so-called Indian variant had been identified in Scotland.
However Prof Bauld told BBC Radio's Good Morning Scotland programme on Thursday that sources, including Cog UK - the UK's genomic sequencing consortium - suggest instances of this variant may be even higher.
She said it was "extremely important" to identify the prevalence of the Indian variant.
Prof Bauld said: "In other parts of the UK where we've seen these cases, surge testing is needed - that means not just asking people to turn up, it's going door-to-door.
"Our attention needs to be focused on that and when cases are identified how do we give maximum support to communities to successfully self isolate and stop those chains of transmission?"
Prof Bauld added that the increase in cases appeared "mostly in younger people".
First Minister Nicola Sturgeon has already said the situation in Glasgow is being monitored "very closely".
She tweeted: "We are seeing an increase in cases in Glasgow just now and, amidst concern about the so-called Indian variant, we are monitoring it very closely."
Ms Sturgeon and other leading politicians have also issued words of caution this week around celebrations of Eid - one of the biggest holidays in the Muslim calendar.
While Prof Bauld said "questions will be asked" about the profile of cases in Glasgow, it was "perhaps premature" to enforce rules which would restrict the whole council area.
She said: "I think a localised approached - a really concentrated identification and support of cases - is the first step. What we don't want is spread beyond those areas, it is about stopping the chain of transmission.
"In the past we, perhaps, had not acted early enough to get on top of outbreaks - this is just a red flag that needs to be dealt with."