Covid in Scotland: South Pacific family stranded in Ayrshire for a year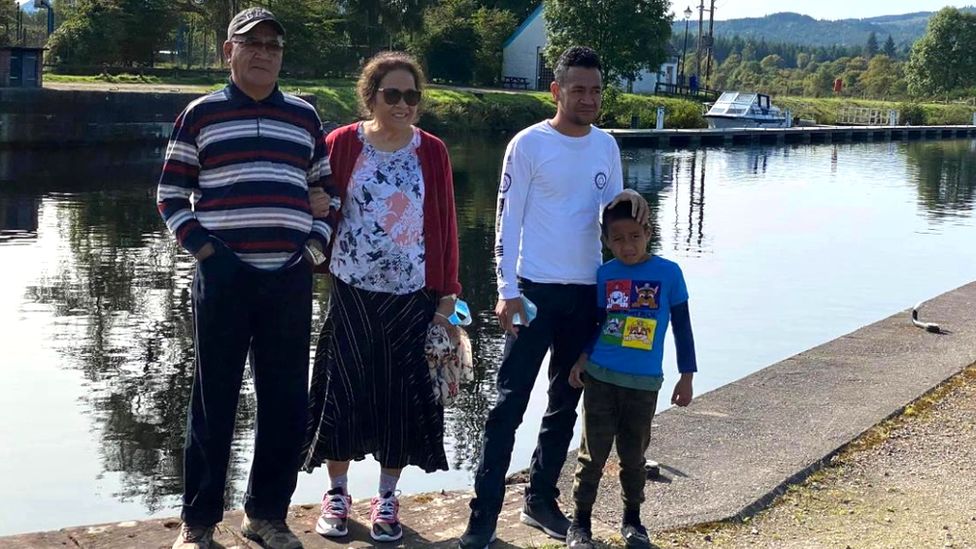 A family from a South Pacific island have been stranded 9,000 miles from home in East Ayrshire for a year because of Covid travel restrictions.
Amosa Soani, 60, travelled with his son and eight-year-old grandson from Tuvalu to the village of Stair for a family reunion in November 2019.
They enjoyed what was to be a six-month stay with Amosa's sister Nafiata and her Scottish husband Neil McNaughton.
But the trip was repeatedly extended after 12 flights home were cancelled.
The family have settled into their adopted homeland to such an extent that eight-year-old Vatau Fakavae has been attending the local school in Straiton since last year.
However, the young boy has now missed two Christmases with his mother and father and they say they are desperate to return home.
Vatau's great-uncle Neil McNaughton told BBC Radio Scotland's Drivetime show they had been trying their utmost to rearrange flights but were "at the mercy of the airlines and Covid".
Mr McNaughton said: "My wife's brother had lost his own wife and had a stroke and we thought it would be appropriate to bring him over for a few months at Christmas 2019.
"He came over with his eldest son Tumau and one of his grandsons and they were due to go back in May last year, but they got stranded here and they're still here.
"We've had to put them up a bit longer than expected. We've also got a disabled son who has been in the shielding category, so it's been quite a busy time for my wife especially."
Neil met his wife Nafiata while he was working in the South Pacific in 1975 and they moved to Scotland a year later.
Nafiata believes her childhood upbringing on Tuvalu has held them all in good stead during a stressful year.
She said: "Family is always the most important thing on the island. That's why having them here has seemed to be no problem.
"But we are worried about them, certainly the wee one who is missing his parents. But they are not complaining - they enjoy living here.
"Vatau enjoys the company of the children at school. He is a very easy child to look after. He helps a lot in the house and is just a nice wee boy."