Families' anger over Ravenscraig 'monstrosity'
By Connor Gillies
BBC Scotland news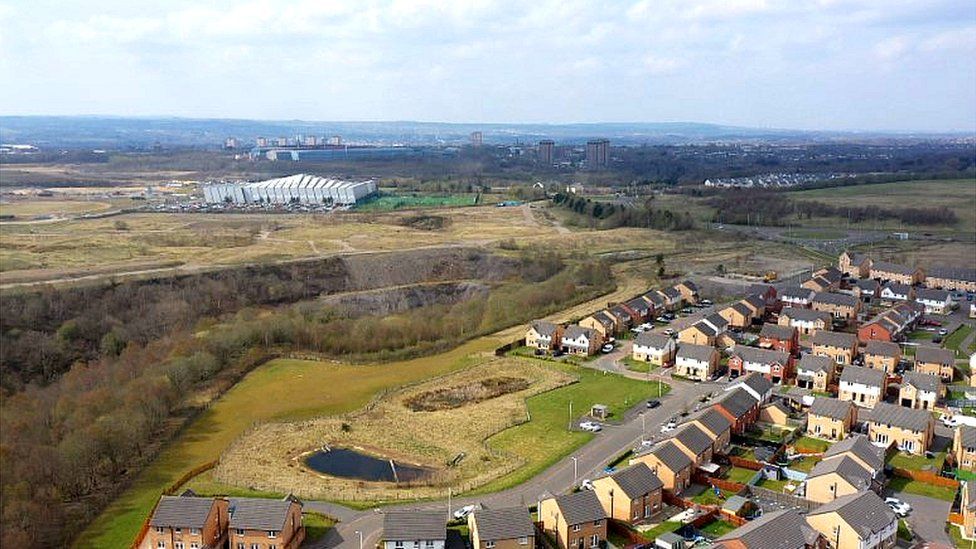 Families living in new homes on the former Ravenscraig site in Motherwell have described plans for a major industrial site on their doorstep as a "monstrosity".
Almost 500 formal objections have been lodged against the proposals, which include a large rail complex for logistics firm Russell Group.
The company said the £200m development would generate hundreds of jobs.
And they said they would take "every step" to minimise disruption.
The development would be built on derelict land which was once home to the largest hot strip steel mill in Western Europe.
Locals have told BBC Scotland the proposed new industrial site would be seven times the size of the local sports complex with 50 lorries passing every hour, frequent freight trains and 12-storey warehouses engulfing the landscape.
'This will be a monstrosity'
Network engineer Mohammed Zeeshan Siddique moved to the housing development in 2017.
The 40-year-old, who is part of the local action group against the plans, said: "I have a young family with two kids. I decided to live in this area based on the fact we are remote and away from any industrial traffic. Never in a million years would I buy a house in an industrial zone.
"We totally object to the proposals. It is going to turn our neighbourhood in to an industrial hub. This will be a monstrosity next to our doors.
"I am furious and angry about the change of plans for this area," he said.
Ryan moved to the area in February 2017 to bring up his three-year-old son Caleb.
The 35-year-old told BBC Scotland: "The idea that this site would become a large area for families with retail, schools, sports facilities and recreational areas. All of that sounded great and it was an easy decision to move here."
He continued: "There have been various regeneration plans over the years but these new plans are a massive deviation. We are now talking about something that is bigger than the biggest warehouses you will find.
He said: "The proposals will see up to 800 HGV movements every day. One every 100 seconds. We are talking about five, six, seven football parks in size. The trains which will enter and leave the site will be three quarters of a kilometre long.
"This is a negative move. They are proposing long term damage to the area."
The site's developer, Ravenscraig Ltd, has been in talks with Russell Group about the plans.
Ravenscraig Ltd is a joint venture comprising Scottish Enterprise, Wilson Bowden Developments and Tata Steel.
Nick Davies, director of Ravenscraig Limited, said: "Ravenscraig represents one of Europe's largest brownfield sites and we are therefore supportive of proposals which contribute to its regeneration. The proposed scheme from Russell Group would drive real tangible benefits in terms of economic impact and job creation, as well as being a catalyst for other development.
"As such, it deserves to be considered on its merits. At the same time, the ongoing mixed use Ravenscraig redevelopment project is progressing, and we are bringing forward a range of further proposals, including employment opportunities, more affordable housing, small scale retail and community facilities."
Kenneth Russell, director at Russell Group, said the company remained committed to the proposed development.
He said: "The £200m investment will create hundreds of high-quality jobs for those living locally at a time of serious economic uncertainty.
"In addition, our planned training academy will help ensure that future generations can build careers in logistics as technology changes how we operate."
He added: "Of course, we recognise that there is some concern within the local community regarding disruption but can reassure the community that we will take every step to minimise this. For example, we will invest in further traffic signals around the site, while we are already moving towards quieter and more energy efficient operations."
If planning goes ahead, the project will be completed by early 2026. Construction work could begin later this year.
A council spokesman said the complex application would take some time to fully assess. When the process is complete, a report will be presented to a meeting of the full council to make a final decision.