Why are Scottish ministers selling a superyacht?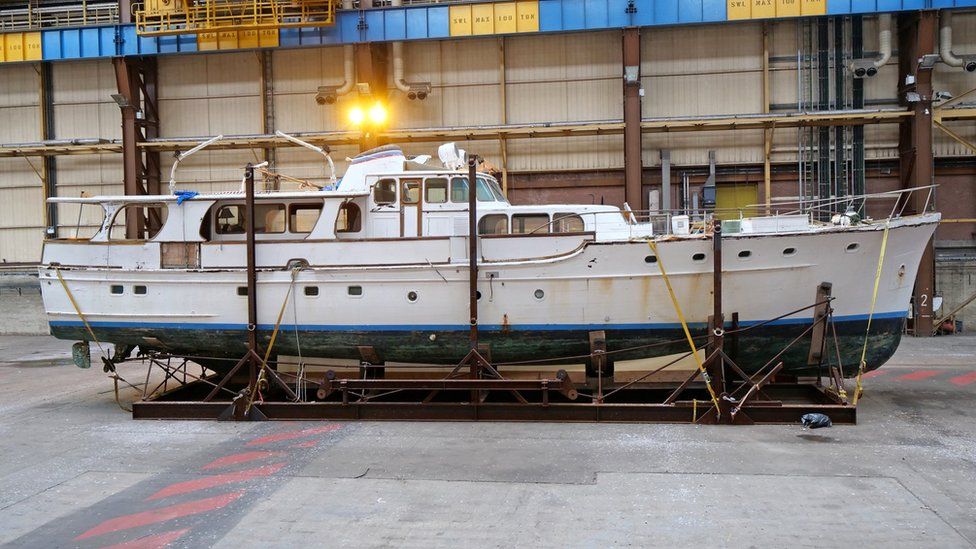 A vintage "superyacht" found in storage at a nationalised shipyard is being sold off by the Scottish government.
The 25m (82ft) vessel was discovered after ministers took over the Ferguson shipyard in Port Glasgow, which went into administration in 2019.
Built by a Dutch firm in 1952, it remains unclear how the yacht ended up at the yard.
The new management at Ferguson said they had no purpose for the yacht and had therefore decided to sell it.
Described as a "gentleman's motor yacht", it was launched in 1952 as Anahita V but will require a "complete renovation and restoration".
It includes a master suite and two guest suites, a skipper's cabin and a three-berth crew cabin, as well as two deck saloons, a wheelhouse and a galley.
It was designed and built by Feadship, a Dutch company said to have a "global reputation" for building luxury yachts.
Anahita V was subsequently renamed Mossie, Yankee, Clipper III, Beau Geste, Inspiration and La Vie Vite before returning to her original name.
She spent her early years on the East Coast of the US, before moving to California where she cruised between Mexico and San Diego.
The yacht was once seized by the US authorities for "undeclared importations", after which she was in federal ownership for years, until she was auctioned off in the 1980s.
Her next owner lived on board for the following thirty years, before selling to an American owner who planned a complete restoration.
Why the yacht was purchased by the previous owner of the Clyde shipyard is not known, according to the current director, but records show it was bought from North America and arrived at the yard in February 2019.
The current management do not know what was paid for it, and have said they are open to offers to sell it on.
'Once a stylish and elegant yacht'
Tim Hair, turnaround director at Ferguson Marine in Port Glasgow, said the yacht was part of the inventory of assets compiled when the shipyard went into administration.
"We do not know why it was purchased and have no reason to keep the vessel," he said.
Mr Hair added that the yard did not have the resources or tools to renovate the yacht, and so the best course of action was to sell it.
"Perhaps someone can bring what was once a stylish and elegant yacht back to life and into service," he added.
Ferguson went into administration following a dispute with Caledonian Maritime Assets Ltd - which buys and leases CalMac ships on behalf of the Scottish government - over the construction of two ferries under a £97m fixed price contract.
When the Scottish government began operating the yard under a management agreement with the administrators last year, about £50m of taxpayer loans to Ferguson Marine were written off.
The Scottish government has kept paying the shipyard's running costs, including its wage bill for 300 people, following administration.
The shipyard had previously been rescued by businessman Jim McColl after it faced administration in 2014, and work on "superyachts" was one of the ideas he put forward for the future of the yard.