Coronavirus: Covid-19 could lead to court backlog of 3,000 trials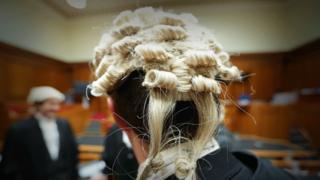 There could be a backlog of up to 3,000 trials in Scotland by next spring because of coronavirus restrictions, MSPs have been told.
It is hoped some trials will resume in the early summer, Holyrood's justice committee has been told.
But social distancing requirements mean there could be a significant reduction in the number of cases taking place.
Jury trials were suspended at the start of the lockdown and cases have been mounting up ever since.
The chief executive of the Scottish Courts and Tribunals service told MSPs by August the backlog at the High Court and sheriff courts could total 1,800, with a potential to rise to 3,000 by next March.
In evidence to a virtual meeting of the justice committee, Eric McQueen said proposals were being worked on to hold some trials but he said for each, three courtrooms would be needed to maintain social distancing.
One would allow the case to take place, a second for the jury to retire to, and the third for members of the press and families of victims and accused to observe proceedings.
Other proposals being considered were pre-recorded evidence and smaller juries to allow more cases to be heard.
Social distancing
Mr McQueen told the committee it was hoped a pilot programme could allow some jury trials to resume in "the early summer."
He said in a normal week there would be 16 High Court trials but, if social distancing measures were in place, that would reduce to five a week.
Trials are resuming this week in England and Wales after being suspended because of the Covid-19 contagion.
The committee heard the Scottish government has not sought the advice of Public Health Scotland on the issue, although its counterparts south of the border have been consulted by the governments there.
In written submissions to the committee, Rape Crisis Scotland  welcomed a possible resumption in jury trials, arguing prompt proceedings were an aspect of victim protection.
But it wanted reassurances that trials would not collapse and victims be required to give evidence again.
Smaller juries
The charity also called for assessment of this risk in the light of Covid-19 situation.
MSPs were told a short-term working group chaired by Scotland's second most senior judge was looking at ways to enable jury trials to resume.
These included smaller juries and increasing sentencing powers of sheriffs - both of which would require legislative change.
Discussions have also taken place about splitting juries across more than one room and even allowing juries to hear cases by video link from a remote location.
The Scottish Criminal Bar Association (SCBA) said: "It is a matter of regret that the English courts are further ahead than ours in this regard."
SCBA has set out a nine-point plan to allow High Court trials to resume safely, including bringing back retired judges and increasing the number of temporary judges to help cope with the backlog.