Driver dies after being found in crashed car near Loch Lomond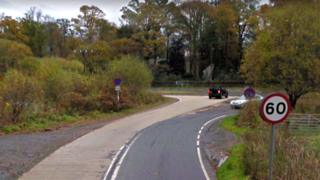 A man has died after being discovered seriously injured in his crashed car near Loch Lomond.
The 65-year-old was found in a blue Audi on the A817, Haul Road, near Helensburgh at about 10:15 on Tuesday.
Passers-by and an ambulance team tried to help the driver but he died at the scene.
Police Scotland has appealed for help and dashcam footage to establish where the man was going and what caused the crash.
Sgt Archie McGuire said: "We believe that the car drove up the Haul Road from the A82 Loch Lomond side and was heading west towards Faslane but have yet to establish a timeline.
"If you saw the car either on the A82, or indeed were on the Haul Road before 10:15, then please get in touch.
He added: "We would be particularly keen to view any dash-cam footage, if available, relevant to the time and location."
The accident came a day after a 76-year-old man was killed in a collision on a nearby road close to the Faslane naval base.
Monday's accident on the B872 involved a red Kia Sorrento car and a lorry.