Vaccine package leak blamed for Glasgow Airport alert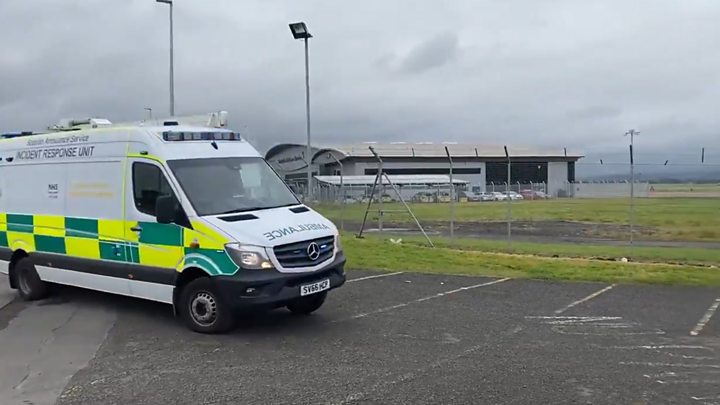 An emergency incident at Glasgow Airport was caused by a leak from a package containing glass tubes of vaccine in the cargo hold of a plane.
An exclusion zone was placed around the aircraft after concerns were raised about the leaking package onboard KLM flight KL1473 from Amsterdam.
The airline said the leak affected dry ice packed to cool the package and the tubes of vaccine remained intact.
The incident was stood down and the area declared safe at 13:30 on Friday.
Part of the international terminal had earlier been evacuated and closed off while a team examined the package, but all other areas of the airport remained fully operational.
Pictures from the airport showed a large number of emergency vehicles, including several fire appliances, ambulances and an environmental protection unit, close to the runway.
In a statement, KLM said: "On KL1473 operated between Amsterdam to Glasgow, a package on board packed in dry ice started to leak this afternoon.
"The package contained glass tubes with vaccines. These tubes have remained intact with only the cooling around them starting to leak.
"As a precaution, the fire brigade cordoned off the immediate vicinity of the aircraft. Passengers were never in danger but were taken off board as a precaution."