Teacher strike to end at health fears campus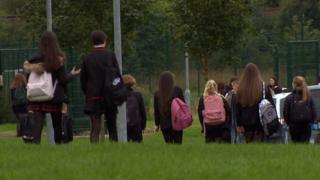 A teacher's strike at a campus tested over health concerns is expected to end, a union has confirmed.
Last week an independent report said there was no link between Buchanan and St Ambrose high schools in Coatbridge and ill-health.
Despite this about 36 members of the NASUWT union took part in a strike.
The NASUWT later said they met their own experts who considered the review findings and "reassured" members they could return to work.
Remedial action
Meetings will take place between the union and North Lanarkshire Council on Thursday to prepare for teachers returning to work on Friday.
Acting general secretary of the NASUWT, Chris Keates, said that a number of issues regarding unwell members of staff needed to be addressed and legal action would be pursued with the council.
She added the union would not withdraw the current action ballot until the NASUWT was "confident" that recommendations in the review were "implemented fully".
She continued: "Our experts believe that the remedial action that has been taken has now made it safe for our members to return to work.
"If it hadn't been for the willingness of the NASUWT members to take a strong stand on this issue, many of the actions which have now been taken on the site would never have occurred and much of the information which staff, parents and the public now quite rightly have access to would never have been made available."
The strike resulted in some curriculum changes for Buchanan pupils with a small number unable to start the new term as normal.
The NASUWT initially said it planned to strike from the first day of the new term until 6 September unless it was satisfied the site posed no risks.
An independent review into fears of contamination at the school campus, which was built on a former landfill site, looked at water, soil and air samples.
It found water samples passed drinking water standards and soil samples were "not of concern".
Derek Brown, executive director of education and families, said it was "regrettable" that some teachers did not return to work in time for the return of pupils.
He added: "We fully understand the impact on those pupils and their parents and are sorry they find themselves in this position."
North Lanarkshire Council says experts worked over the weekend to remove chemicals subject to an international industrial ban from the grounds of the campus.
The review team found one soil sample on the periphery of the site had elevated levels of PCBs and recommended it was removed as soon as possible as a precaution.