Queen Street Station services resume after smoke alert on train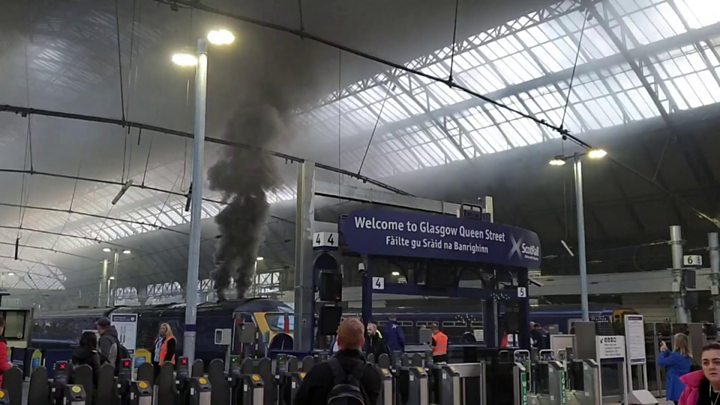 Services at Queen Street Station in Glasgow have resumed after the station had to be evacuated during rush-hour.
Firefighters received calls at about 07:40 when smoke was spotted billowing from the front of a train. ScotRail later confirmed the smoke was caused by an engine fault.
It said it was unable to operate trains to or from the station while the incident was ongoing.
The train was removed from Queen Street and services are now back to normal.
Three fire trucks were sent to the scene while crowds gathered outside the station.
The faulty train was one of ScotRail's un-refurbished high-speed models, also known as a classic, the operator confirmed.
There are no details about what caused the fault and the train has been moved to the Eastfield depot where engineers will carry out examinations.
A spokesman said: "There was no fire, just smoke coming out of an engine. The engine has now been moved away to the depot to have a look."
A spokesman for the Scottish Fire and Rescue Service said: "The Scottish Fire and Rescue Service was alerted at 07:39 to reports of smoke issuing from a train at Queen Street Station in Glasgow.
"Operations control mobilised a number of fire engines to the scene however on arrival our assistance was no longer required."