Fire rips through hotel at Belleisle Golf Course in Ayr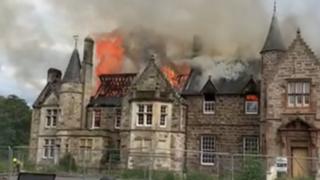 A fire has broken out in a derelict hotel within the grounds of a golf course in Ayr.
Firefighters were called to the hotel within Belleisle Park at about 15:20 after the flames took hold in the building, which is closed for refurbishment.
Five trucks and two support pumps have been sent to the scene.
Local roads are closed around the hotel and gold course. The incident is ongoing.
South Ayrshire Council Sport and Leisure posted an update on its Facebook page.
It said: "We have taken the decision to close Belleisle Golf Course tomorrow, Saturday, following the fire within Belleisle House.
"The car park will also be closed to allow the emergency services to undertake their investigation works."