Further Glasgow Airport strikes expected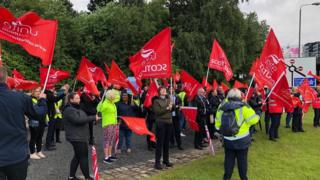 Staff at Glasgow Airport are expected to stage more strikes before the end of June, the BBC understands.
Workers gathered to picket on Friday on the third day of strikes in Glasgow over pay and pensions.
More will be held on 21 June between 08:30 and 14:30, 24 June between 06:00 and 10:00 and 26 June between 10:00 and 14:00.
And the United union is expected to confirm more industrial action before the end of the month.
It comes after further strikes were announced for Aberdeen Airport.
The action across both locations follows stalled talks over similar disputes between the AGS Airports group and the Unite union.
Unite said the latest four-hour stoppage action in Aberdeen would be on Thursday 27 June and Friday 28 June, both between 06:00 and 10:00.
Further talks are expected to take place in Aberdeen next Tuesday in a bid to avert industrial action.
Strikers included security staff, fire and operations teams - but not check-in or baggage handlers.
Passengers flying out of Glasgow were met with security delays on the first day of strikes on 7 June.
One Ryanair flight to Dublin was diverted on Friday as a "direct result" of strikes, according to airport chiefs. However, they also said contingency plans had gone well.
A spokesman said: "We have only experienced minor delays during the transition periods between contingency teams and our staff.
"The [diverted Ryanair flight] was scheduled to arrive and depart during the handover period from contingency to airport staff and Ryanair took the decision to divert this service. This is the only flight which has been impacted in this way and there are no other diversions.
"Our contingency plans have ensured 350 flights have operated during the industrial action by Unite ensuring thousands of passengers have been able to continue with their journeys."