Serco to restart asylum seeker lock-change evictions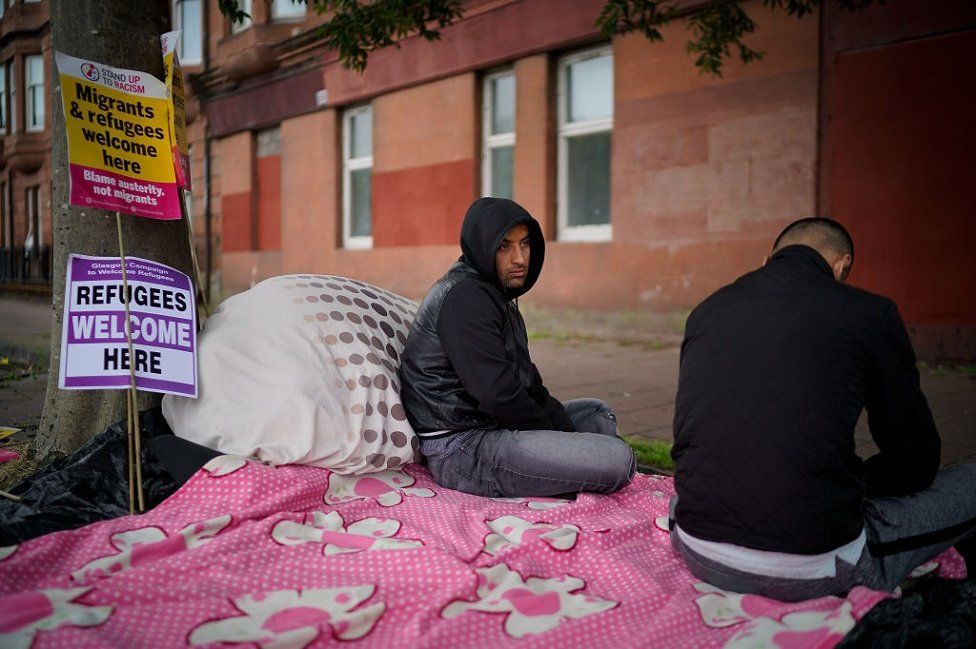 Hundreds of asylum seekers are facing eviction after a housing provider announced it was to restart a lock-changing programme.
Serco first announced that it was issuing eviction notices to tenants who had been denied the right to remain in the UK last July.
It provides free housing to about 300 people in Glasgow.
Glasgow City Council's leader Susan Aitken has warned the UK government the move could lead to "mass destitution".
And campaigners have raised fears that vulnerable people could be "man-handled" into the street.
In April a legal challenge arguing that evictions would be unlawful without a court order was dismissed by a judge.
Govan Law Centre is supporting an appeal of the decision and has called for the evictions to be suspended in the meantime.
The company will now restart the lock-change programme and return any housing it rents in the city to its owners at the end of the leases.
It said it was "not a step we have taken lightly".
Serco claims it costs about £1m a year to support people who remain in their properties after having their asylum claims rejected.
Julia Rogers, Serco's managing director for immigration, said: "We very much regret the distress this will cause, but hope that it will be understood that we cannot be expected to provide free housing indefinitely to hundreds of people who have been unsuccessful in their asylum claims and most of whom have no legal right to remain in the UK.
"We call on all parties to work with us constructively to help people navigate their way through to a new future beyond the asylum system, and we will be making funds available to charities to support this work."
She told BBC Scotland that Serco had a responsibility to hand the vacant properties back to their owners before the end of September.
"If we were to wait, that could be a worse situation. We now have four months in which to manage that situation as best as we possibly can," she added
Serco said no more than 30 people would be issued with lock-changing notices in any one week, and the latest programme would be rolled out over the next four months.
Almost all are single adult men and women. Serco said "no children will be left without housing".
The company said tenants would be given at least 21 days' notice to make alternative arrangements.
It added that it would make up to £150,000 available to charities supporting homeless people in Glasgow.
Charity Positive Action in Housing said that since April asylum seekers had been receiving letters telling them to leave their accommodation immediately.
Its director Robina Qureshi said they have been "intimidated" into leaving their homes.
She raised concerns about how the evictions would work and warned that it could lead to 300 people being made "totally destitute" over the next two and half months.
"Are people going to be dragged out with their belongings dumped in the street?" she said.
"Anecdotal evidence tells us that vulnerable, frightened people, both men and women, will be man handled onto the street."
She advised people to refuse to leave the properties.
Serco's original plans to change the locks of tenants were met with protests in Glasgow last summer.
Ms Aitken has now written to UK Immigration Minister Caroline Nokes about the "deeply concerning development".
She added: "In order for Glasgow City Council to provide support, I would have to instruct officers to break the law.
"It is a sorry and utterly unacceptable state of affairs when a UK government contract legally obliges its contractor to force people from their homes and leave public servants to choose between either breaking the law or allowing mass destitution on the streets of our city."
Ms Aitken urged minister to intervene to prevent the planned evictions.
"If there is no satisfactory resolution to this matter, one which accepts the inevitable consequences of lock changes and prevents them occurring, then Glasgow will have no alternative but to consider what, if any, future it can have in an asylum dispersal programme which allows for the imposition of such inhumane practices, against the express wishes and values not only of Glasgow City Council, but also of the citizens and communities we serve.," she added.
A spokesman for the Home Office said took the wellbeing of asylum seekers and the communities in which they live "extremely seriously".
He added: "We have and will continue to work closely with local authorities and partners to ensure that those who have no right to be in the UK leave their accommodation in a safe and secure way.
"We have been working with Glasgow City Council and other partners to ensure those at risk of potential eviction have the necessary advice on their options."