Pressure grows over Coatbridge school health fears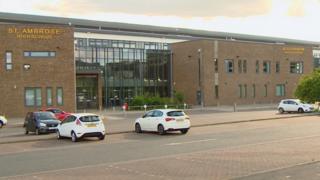 Teaching union the EIS has accused North Lanarkshire Council of doing "far too little, far too late" to address health fears at a school.
Concerns have been voiced about possible chemical contamination at the Coatbridge site which was once used for landfill.
The campus has been shared by Buchanan High and St Ambrose High since 2012.
North Lanarkshire Council said no serious illness had been connected to the schools or the site.
But Larry Flanagan, general secretary of the teachers' union, said members had raised "significant and legitimate health and safety concerns".
He criticised the council for not acting quickly to allay fears, and said the local authority's actions had generated "suspicion and mistrust".
Booklet giving assurances
Mr Flanagan added: "North Lanarkshire Council's response has been poor. In fact, the EIS would go as far as saying that it has done far too little, far too late."
The Townhead Road school complex was built on a site which was used for industrial waste - including lead and arsenic - between 1945 and 1972.
Following reports of the water being blue in colour, tests were carried out and in March 2018 it was revealed that copper levels were up to three times higher than recommended.
Work to replace pipes is due to be completed over the summer holidays.
However, there continues to be concerns among both staff and parents.
Twelve teachers from the NASUWT union who work at Buchanan High School are to go on strike from 20 to 28 June,
The industrial action was prompted after it emerged that four former or current members of staff at Buchanan High had received treatment for cancer.
In addition, 147 pupils who attend the two schools took unauthorised leave on Monday.
The council made no comment about whether the absences could be related to parental concerns.
A spokeswoman said lower attendance at secondary school would be expected after exams had finished.
She added that to allay concerns the council would be posting out a booklet "containing all the facts to all parents and carers" giving "assurance that the schools are safe for their children to attend".
Monitoring health
The EIS said it would be meeting on Wednesday to discuss "actively pursuing legal remedy on behalf of some members".
It has also asked experts in occupational hygiene and monitoring to investigate.
Mr Flanagan said: "We are very clear that North Lanarkshire Council remains liable for ensuring the safety, health and wellbeing of both pupils and staff in their buildings and for taking whatever steps are necessary to provide reassurance such as access to health monitoring."
The council said "specialist doctors" from the public health department of NHS Lanarkshire have confirmed that "no incidence of cancer is linked to the schools".
It added that no other serious illness was connected to the "schools or the site on which they are built".