Margaret Fleming murder trial: Bone fragments found in garden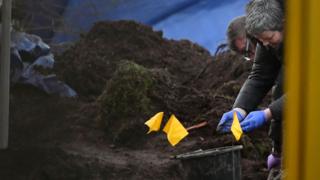 Almost 300 fragments of bone were discovered in the garden of the house where missing Margaret Fleming used to live, a murder trial has heard.
Analysis by Dr Helen Langstaff concluded that none of the fragments were recognisably human in origin.
Some were recognisable as animal, including deer, while most of the 298 fragments were too small to identify as anything other than bone.
Edward Cairney, 77, and Avril Jones, 58, deny murdering Margaret Fleming.
They are accused of killing her at Seacroft, Inverkip, Inverclyde, between 18 December 1999 and 5 January 2000.
They are also accused of defrauding £182,000 in benefits and attempting to defeat the ends of justice by claiming Ms Fleming was alive.
They deny all the charges against them and claim that Ms Fleming is still alive.
Dr Langstaff, a forensic anthropologist, told the trial that she examined fragments of bone taken from a blackened area of earth in the garden of the property.
They included part of a hind foot of a deer, which showed signs that it had been exposed to heat.
Prosecutor Iain McSporran QC asked Dr Langstaff: "Could they be human," and she replied: "They could be and could not be."
She added that 298 bone fragments were found - some were fish in origin and some were animal in origin.
"Most were too small and fragmented to identify as anything other than bone," she said. "No bone fragments were found that were recognisably human in origin."
The jury heard that under the topsoil, a five-metre by four-metre area of blackened soil was found.
Under the blackened soil was a pile of rubble.
'No DNA obtained'
Ms Jones' QC Ian Duguid asked the anthropologist: "The rubble could have been created to burn things," and she replied: "It is not for me to say."
Dr Langstaff agreed with Mr Duguid that the bones could have been there for more than 20 years.
Forensic scientist Fiona McMahon said that she analysed the bone fragments but was unable to obtain any DNA from them.
A former firefighter later told the court he smelled burning human flesh coming from a bonfire at the home of Mr Cairney and Ms Jones in 2008
Paul Neeson, 77, from Gourock, said the blaze lasted for days.
Mr Neeson told the jury that, as they drove past the house, he turned to his wife and said: "I wonder who's cremating who."
He said that to placate his wife he then said to her: "It is probably a deer."
Mr Neeson, who was a fireman in Canada for 14 years before moving to Scotland 30 years ago, said he had smelled burning human flesh while attending fatal fires.
He said: "It's distinctive and it is indelibly on my mind. It is not something you forget easily."
'Too incredible'
The jury heard that when Mr Neeson spoke to detectives in May 2017, he did not mention anything about burning human tissue, but instead said it was animal flesh.
When asked by prosecutor Iain McSporran QC why he did not mention smelling human tissue, he replied: "Maybe it was just too incredible to believe."
Mr McSporran asked Mr Neeson what the jury should make of this, and he replied: "I still believe it in my heart."
Defence QC Ian Duguid said: "You are telling us today you smelled burning human flesh. Why have you saved this information to yourself?"
Mr Neeson replied: "I believed it then and didn't say so. I believe it now and say so."
He added: "I'm appalled that I didn't call the fire department at the time."
The trial, before judge Lord Matthews, continues.