Six jailed over Glasgow 'war zone' gang feud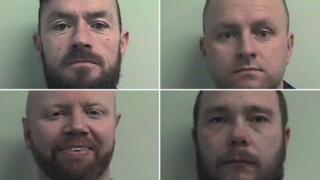 Six men who tried to turn Glasgow into a "war zone" during a feud with a rival gang have been jailed for a total of 104 years.
The associates of the Lyons criminal family were found guilty of plotting attempts to kill five men linked to their rivals, the Daniel family.
Police said it was a "miracle" that no-one died in the violent attacks.
The judge, Lord Mulholland, said the "sophisticated plot" was foiled by "good, old-fashioned detective work".
Brian Ferguson, 37, Andrew Gallacher, 40, Robert Pickett, 53, Andrew Sinclair, 32, John Hardie, 35, and Peter Bain, 45, were found guilty of conspiracy to murder last month.
Ferguson, Gallacher and Hardie were each jailed for 20 years; Picket was jailed for 16 years; Bain was jailed for 15 years; and Sinclair was jailed for 13 years and three months.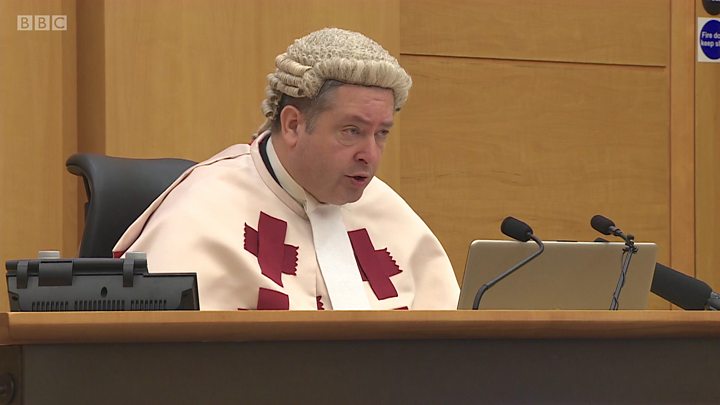 Lord Mulholland told them: "You sought to turn Glasgow into a war zone for your feud.
"This is a civilised city, which is based on the rule of law. There is no place for this type of conduct, retribution or the law of the jungle."
The men had targeted Robert Daniel, Thomas Bilsland, Gary Petty, Ryan Fitzsimmons and Steven Daniel between June 2016 and September 2017 at locations in Glasgow, North Lanarkshire, Renfrewshire and Manchester.
Shot dead
Their attackers were tracked down during Operation Engagement, the latest investigation linked to the feud - which has been connected to dozens of tit-for-tat attacks, including a murder.
The trial heard that victim Steven Daniel knew Kevin "Gerbil" Carroll, who was shot dead in the car park of Asda, Robroyston, in January 2010.
The first murder trial, which later collapsed, heard that Carroll's killer, William Paterson, visited a member of the Lyons family in prison, two days after the supermarket murder.
The latest 14-week trial at the High Court in Glasgow, which was held amid tight security, focused on five attempted murders in five months.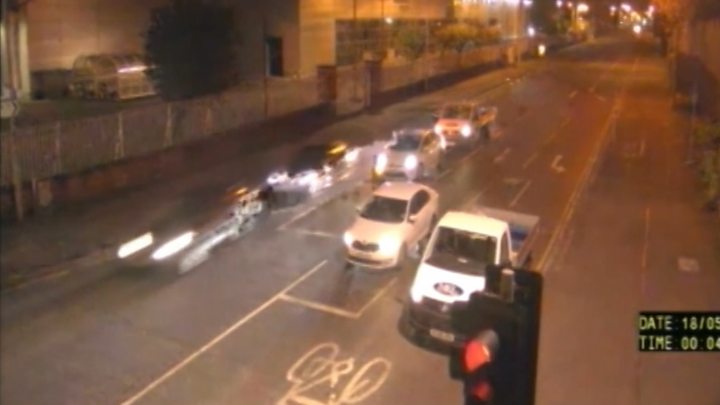 The murder bids included an attack on Steven Daniel on 18 May 2017.
After a high-speed car chase which ended with a crash on an off-ramp of the M8, he was attacked with a cleaver and a hammer.
His nose was almost severed from his face, and his injuries were so severe that police initially thought he had been shot at close range.
The Audi S3 used in the attack was set on fire, but a bloodied machete was discovered in the back seat.
The first attack was on Robert Daniel, whose car was rammed by another vehicle before he was chased into a house in Robroyston on 8 December 2016.
Once inside the house he was struck twice on the back of the head with what he later told police was a hatchet or a machete.
A month later, Thomas Bilsland suffered a fractured skull after he was set upon in Glasgow's Cranhill.
Gary Petty was targeted after he visited an Italian takeaway in Maryhill on 7 March 2017.
Former soldier Ryan Fitzsimmons was left unconscious and brain-damaged after being ambushed in the street by a masked gang on 28 April 2017.
The 34-year-old was attacked with a sword and a hammer outside the home he shared with his mother in Clydebank, West Dunbartonshire.
He told jurors: "It felt like death was coming."
His mum Geraldine, 61, was so affected by what happened that she suffered a heart attack in the street.
Crime cash
Mr Fitzsimmons told jurors he had "no enemies" but jurors heard his older brother Martyn had once been charged with shooting Ross Monaghan, the man cleared of murdering Carroll outside Asda.
Last year soldier turned gun-runner Martyn was jailed for 10-and-a-half years after admitting having a Glock and ammunition, and hiding £36,000 of crime cash.
He was part of a nine-man crime gang - described as Scotland's most dangerous - jailed for 87 years after Operation Escalade, a massive probe into violence, drugs and firearms offences.
Lord Mullholland described Ryan Fitzsimmons as "a hard-working man living peacefully with his mother".
He said: "As a result of the extensive injuries sustained during the attack upon him he has had to give up work and is dependent on his mother for his care and support. The need for care and support will persist for the rest of his life."
Lord Mulholland said Steven Daniel had told the trial that he was not aware of a feud between the Lyons and Daniel families.
"I did not believe a word and, more importantly, neither did the jury," he said.
The judge said the "sophisticated" murder plot had involved high-tech tracker devices and encrypted mobile phones.
But he told the six men: "You were caught by good, old-fashioned detective work, identifying DNA on a tracker - and everything followed from there."
Det Inp Jim Bradley said it was a "miracle" that no one died.
"It's been documented in the trial that if it hadn't been for medical intervention and the expertise of medical staff that a couple of our victims would have died," he said.
"The level of violence in such a planned and premeditated manner was horrific.
"There's no other word for it - just totally horrific."
He added that there had been repeated attempts to "calm things down" and stop the violence.
"Hopefully this will be a deterrent to anybody that's going to involve themselves in this kind of activity," he said.
"There's no winners in this type of crime."