Family of suicide father felt 'abandoned' by NHS before tragedy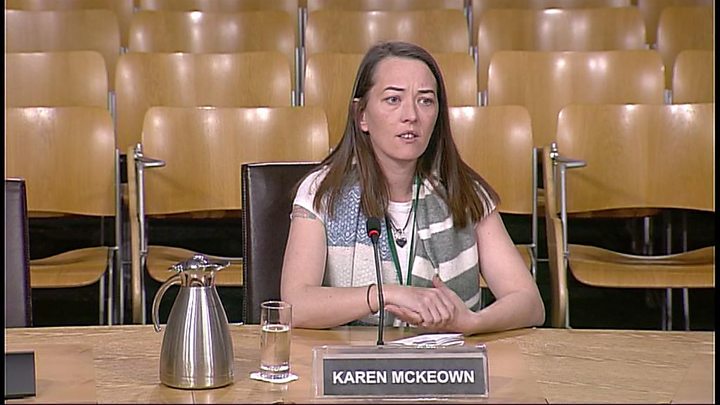 A woman has told the Scottish Parliament she felt "turned away and abandoned" after being refused help eight times in the week before her partner took his own life.
Karen McKeown, from Bellshill, North Lanarkshire, has taken her fight for a review of mental health services to Holyrood.
She made an emotional appeal to MSPs on the Public Petitions Committee.
Ms McKeown's partner Luke Henderson died in December 2017.
She said the help just was not there for him.
NHS Lanarkshire said a review and investigation found the correct procedures had been followed.
Ms McKeown told the committee: "Luke was my best friend, he was my partner, he was my soulmate."
She said he was a great father to their two children, and insisted: "This was a preventable death."
Ms McKeown explained that Mr Henderson began to hear voices in his head and described the rapid decline in his mental health. They tried to get help between 23 December and 29 December 2017, to no avail.
She said she begged every service to help.
Ms McKeown said: "Every time, we were turned away and abandoned.
"Time after time I pleaded for help but was turned away."
On 29 December, she woke up to find that Luke had taken his own life.
"The events of that night shattered my world," she told the committee.
Family concerns
Ms McKeown said she was told correct procedure was followed by not admitting Mr Henderson to hospital.
But she told MSPs she wants a review of the mental health service - and she wants a fatal accident inquiry to be held every time someone takes their own life.
She said crisis support must be available at all times and family concerns must be listened to.
"It's my duty to Luke and my children to campaign for this," she told MSPs.
Ahead of her evidence session, Ms McKeown spoke to the BBC's Good Morning Scotland programme.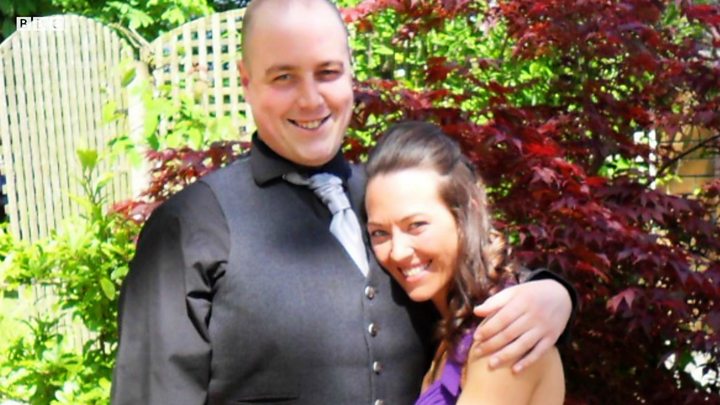 She said: "At the minute there is no crisis service after 5 o'clock Monday to Friday and at the weekends. And particularly around holiday periods. A central hub has to be set up.
"Different agencies, the justice, social work and health services should all start communicating and start linking in with each other because Luke had warnings in previous risk assessments but these were not highlighted when we went to accident and emergency."
MSPs were told by Ms McKeown that in Lanarkshire, Hairmyres and Monklands hospitals do not have psychiatrists after office hours, and over holidays like Christmas there is a skeleton staff.
However, NHS Lanarkshire said it has a psychiatric liaison service, which consists of psychiatrists, psychiatric nurses and advanced nurse practitioners that provides a service to three acute sites which are staffed 24 hours a day, seven days a week including public holiday periods.
Ms McKeown told the committee she does not want to hear another case where families have tried and begged for support.
The committee agreed to write to the Scottish government and other key organisations involved in mental health and keep the petition open.
'Correct advice'
Paula Macleod, NHS Lanarkshire general manager for mental health and learning disability services, said: "We are aware of this tragic matter and undertook a suicide review in line with Health Improvement Scotland guidelines in March 2018, which aimed to identify any learning points.
"The review found that both mental health and addictions staff, in line with the procedures and clinical guidelines we adhere to, provided the correct advice, support and signposting to the most appropriate services.
"Ms McKeown raised further questions on the back of the review which were investigated via our patient affairs department.
"We also informed her that she can raise her concerns with the Scottish Public Services Ombudsman to investigate the matter further and that individual GP practices also have their own complaints handling procedures."
If you have been affected by any of the issues regarding suicide, there is help available. If you, or someone you know, is struggling, you can find support here. And there is list of organisations that may be able to help at bbc.co.uk/actionline.