Govan flat explosion treated as murder bid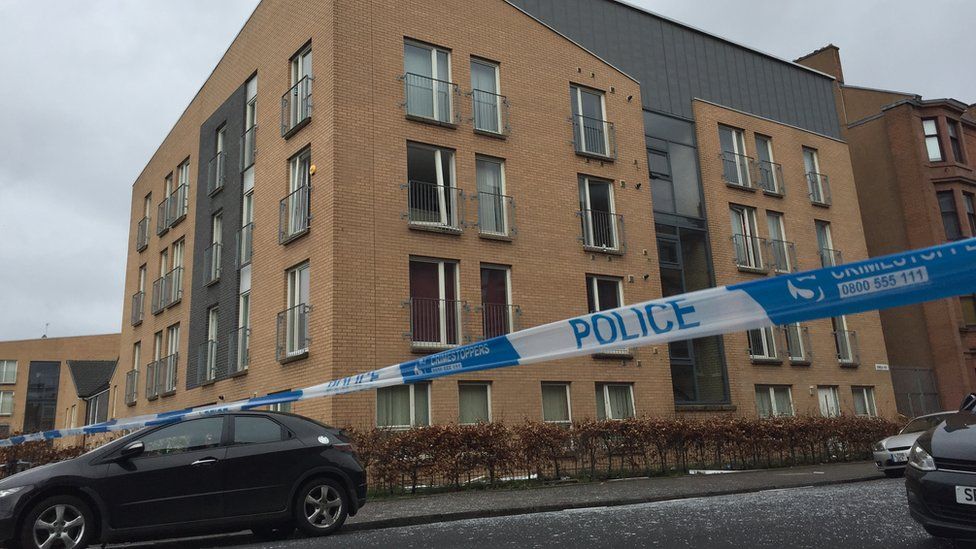 A man is critically ill with burns after a deliberate explosion in a block of flats in Glasgow.
Police, paramedics and firefighters were called to Kennedar Drive in Elderpark, Govan, following reports of the blast at about 07:05.
Detectives are treating the incident as attempted murder.
Supt Craig Smith said: "Inquiries carried out so far have revealed that the explosion was as a result of a deliberate act within the flat."
A 26-year-old man was taken to the city's Royal Infirmary with burns and staff have described his condition as critical.
A 30-year-old woman was admitted to the nearby Queen Elizabeth University Hospital for treatment but has been discharged.
Supt Smith added: "The flat has been significantly damaged, however, the impact of the blast did not affect other properties in the block and the 23 people who had been evacuated have been allowed back into their homes."
It is understood officers are following a definite line of inquiry.
Denise Smith, 43, who lives in a neighbouring house, said: "I woke up after hearing glass shattering, and screaming.
"At first I thought it was a domestic. I looked out of my bedroom and could see a woman screaming for help.
"I went outside and one of my neighbours said there had been an explosion."
Ms Smith and her two grandchildren were taken in by a neighbour after being forced to leave her home.
Surveying the debris strewn across the street, she said: "It's horrendous.
"You would not think something like that would happen next door to you."
The two casualties were rescued from the building by the Scottish Fire and Rescue Service (SFRS) and passed into the care of the Scottish Ambulance Service, who had sent a trauma crew to the scene.
A SFRS spokesman said: "Operations Control mobilised three fire engines and an aerial appliance to the scene, where two casualties were assisted to safety and passed into the care of the Scottish Ambulance Service."
The block, which is thought to be about five years old, is owned by Glasgow Housing Association.
GHA managing director Jennifer Russell said: "Our staff were on the scene to help residents affected as soon as we were alerted.
"People were allowed back in shortly after the incident but we'll continue to support them with anything they need.
"We're also working closely with the police and fire services."