Alesha MacPhail murder: Life sentence for Aaron Campbell after he admits guilt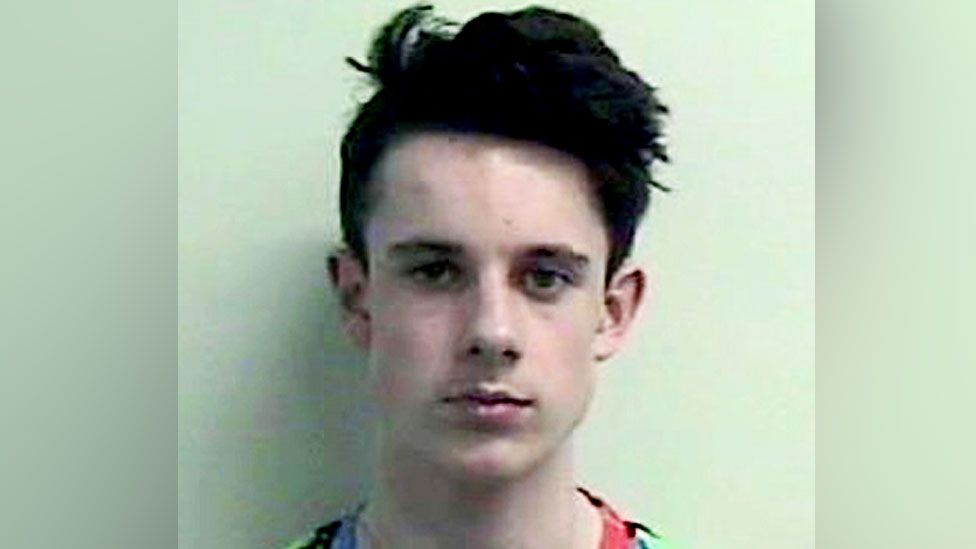 The 16-year-old who raped and murdered Alesha MacPhail has been sentenced to a minimum of 27 years behind bars after he finally admitted his crime.
During his trial, Aaron Campbell had repeatedly denied he abducted, raped and killed the six-year-old on the Isle of Bute last July.
But he admitted his offences to a psychologist preparing a report to the court ahead of his sentencing.
Judge Lord Matthews imposed a life sentence for the "brutal" murder.
He set the punishment part of the sentence, before Campbell can apply for parole, at 27 years.
Lord Matthews said Campbell's crime had caused "revulsion and disbelief".
He said Alesha had been violated and murdered and told Campbell he was a "cold, callous, calculating, remorseless and dangerous individual".
The judge read out Campbell's "cold blooded and horrific" account of his actions that night and how he described seeing Alesha asleep in her room as "a moment of opportunity".
Campbell's confession was contained in the criminal justice social report and the criminal psychologist's report, which were prepared ahead of his sentencing.
The report by the forensic clinical psychologist Dr Gary Macpherson quoted Campbell as saying: "At any other time in life murder would not have been the conclusion.
"If I was a year younger I don't think I would have done it.
"All I thought about was killing her once I saw her."
In his sentencing statement, the judge said the teenager had shown breathtaking arrogance during the trial and had failed to plead guilty despite overwhelming evidence against him.
He said he had shown "a staggering lack of remorse".
"Not once did I detect a flicker of emotion from you," the judge said.
Lord Matthews said it would be for others to decide if Campbell would ever be released, indeed, he said his reintegration into society might be "impossible".
During his nine-day trial at the High Court in Glasgow last month, Campbell claimed he had never met his victim and lodged a special defence naming the 18-year-old girlfriend of Alesha's father as the killer.
The judge said this was a "cruel travesty of the truth" and said the woman he blamed, Toni McLachlan, was "completely innocent".
The judge said he was "shocked" by the clear admissions of guilt in the background reports, especially after the "tissue of lies" Campbell had told in court.
The psychologist said that on the night of Alesha's death Campbell had been drinking and wanted cannabis so he decided to go into her father's home to get some.
Alesha's father had previously sold him the drug.
In his sentencing statement, Lord Matthews said Campbell had carried Alesha to a secluded spot where he raped and murdered her "in the most brutal fashion".
He told the teenager: "You said that Alesha was drowsy and became a bit more awake when you went out.
"At one point she asked who you were and where you were going.
"You said you were a friend of her father and that you were taking her home."
Campbell gave Alesha his coat because she was cold.
The judge said that over the next few days Campbell was unconcerned about what had happened, and was "slightly amused" that the police had not caught him.
The court heard that the teenager had said he was "quite satisfied by the murder".
The judge said Campbell told Dr Macpherson that at points during the trial it took "everything to stop laughing" and he had to "zip his mouth".
Lord Matthews said the reports concluded that Campbell was not suffering from a mental health disorder but showed a total lack of victim empathy.
Alesha, from Airdrie in Lanarkshire, was just days into a holiday when she was abducted from her bed.
She was reported missing from her grandparents' home on Ardbeg Road, near Rothesay, at 06:23 on 2 July last year.
Dozens of islanders joined the search for the child but at 08:54 her naked body was discovered in a wooded area in the grounds of the former Kyles Hydropathic Hotel.
A post-mortem examination later revealed she had suffered 117 injuries and died from significant pressure being applied to her face and neck.
After the sentence was read out family members shouted "evil" and "beast" as Campbell was led down to the cells.