Glasgow School of Art criticised over Mackintosh Building fire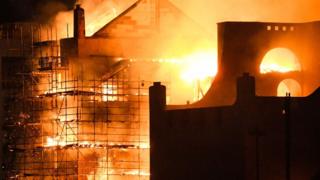 Glasgow School of Art (GSA) has been criticised by MSPs in a report into the fire which devastated the Mackintosh Building last year.
Holyrood's culture committee said the school did not give sufficient priority to safeguarding the building.
The blaze ripped through "The Mack" in June 2018 as a £36m restoration project, following a major fire four years earlier, was nearing completion.
The GSA said it intended to "learn lessons" from the report.
The MSPs also said a full public inquiry should be held into the circumstances surrounding the two fires at the building.
The committee's report concluded that prior to the first fire in 2014, the art school had not addressed the heightened risk of fire to the Mackintosh Building or carried out an adequate risk assessment.
The committee was particularly concerned about the length of time taken for a modern mist suppression system to be installed. Such a system was still not in place when the second fire broke out.
Committee convener Joan McAlpine said: "The board of Glasgow School of Art were custodians of this magnificent building, one of the most significant to Scotland's rich cultural heritage.
"They had a duty to protect Mackintosh's legacy.
"Glasgow School of Art must learn lessons from its role in presiding over the building, given that two devastating fires occurred within their estate in such a short space of time."
MSPs were also told during their inquiry that ventilation ducts which allowed the fire to take hold in 2014 were still in place at the time of last year's blaze.
They had been due to be rectified at the end of the restoration project.
The report also urged the GSA to take steps to repair a "loss of trust" with the local community.
Responding to the report, Glasgow School of Art said: "There are always lessons that can be learned, and we are happy to take forward the most appropriate and helpful as we bring this much-loved building back to life."
However, it said there were some "factual inaccuracies" in the report.
It also added: "The Mackintosh Building is a national (indeed international) treasure, but it is not lost and it will certainly return."
Representatives from Historic Environment Scotland told the hearing they could not offer any financial support for a new build of the Mackintosh building as grants are for the repair and conservation of existing historic fabric.
However, bosses at the art school have said they are confident that it will be rebuilt.
The committee made a number of recommendations about protecting other historically significant buildings, including:
Reviewing the remit of Historic Environment Scotland (HES), giving it extended statutory powers to intervene in cases where there is a risk to an asset of national significance
A review of Category A listed buildings with unique cultural or historic significance to discover if steps need to be taken to mitigate the risk of fire
A Scottish government review of the powers to compel owners to put in place enhanced fire safety measures to protect buildings of national significance.
Deputy convener Claire Baker added: "If anything positive at all should come out of the loss of the Mackintosh it should be that further protection is put in place for some of Scotland's most significant historical buildings.
"Throughout our investigation, it has been clear that there are weaknesses in the policy protecting our heritage. This is why the Committee has set out some very clear steps that must be taken in order to prevent any further loss.
"Particularly key to this is giving Historic Environment Scotland further powers to intervene where there is a serious fire risk to some of Scotland's most important buildings."